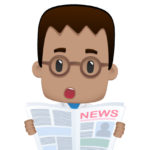 Whether you're teaching elementary school or at the college level, you know that preparing for a new school year is always a roller coaster.  There's no end to your To-Do list but (hopefully) you're also feeling revved up about returning to the classroom.  For this issue of News, we're sharing articles and websites we hope will give you a chuckle or a useful tip as you prepare to go back to school.  Enjoy!
ScienceNetLinks has compiled a wonderful collection of science-themed classroom activities, including lessons, podcasts, and awesome teacher resources.
What makes a good science teacher?  This article offers some clues.
Check out this NSTA "freebies" link.  There are dozens of lessons and teaching ideas to inspire you for the new school year.
Take a look at these five-minute "science starters" at The Science Spot.  Worth a visit!
---
Looking Back at Back to School 2015
In our first Back to School newsletter, we offered a selection of icebreakers, humor, videos, lesson ideas and more.  Well worth a revisit!