by:  Ken Crawford
As I mentioned in my last blog, I had the opportunity to get in on the ground floor of introducing a new teaching tool called the PowerWheel.  As a career social studies teacher and administrator, it has been a great experience to learn about a whole new area of academics…the teaching of energy and everything that goes along with it.
As we started to market the PowerWheel, one of the first things that we did was to bring together a group of teachers that represented all teaching levels…from the elementary to the post-secondary.  Many of these teachers were not science teachers…or had limited science backgrounds.  After giving them the chance to use the PowerWheel, we asked them, "How can we make the PowerWheel the most effective teaching tool it can be?"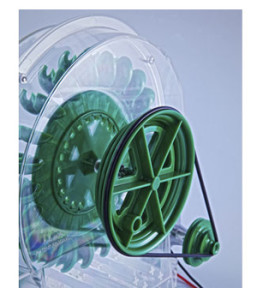 Their answers were an eye-opener for us. It came down to variations on a single theme:  Before we can use the PowerWheel effectively, we need to understand energy ourselves…then we can teach our students. It turns out that one of the greatest fears or limitations that some of the teachers had was the lack of their own knowledge.  If given a chance to choose between a social studies lesson and a science lesson…they would choose the former…just because of comfort level.
From that moment on, we knew that we had an additional priority…help teach the teachers, and then effective learning about energy could take place. The PowerWheel is a great tool to help do this…easy to understand, and easy to use.
Here are three thoughts about teaching energy education in your classroom: