Educational Innovations is proud to offer a wide array of lesson plans and activities for many of our Super! Wow! Neat!® products. These lessons and activities require minimal advance effort or outside materials. They're designed for practical classroom application but are also suitable for in-home use, though some supervision may be required. Some of our products feature different lesson ideas for different grade levels, and we are currently working to align our lessons with the NGSS (Next Generation Science Standards).
The fastest way to review our free lesson ideas is to check out our new LESSON IDEAS link.  We're constantly updating this page as we add new lessons.
In the past, we've always included printed lesson sheets in the box with your shipment.  However, in an effort to "lesson" our impact on the environment, we are phasing out paper copies of our lesson plans and activities.  (Note: some of our materials still do contain paper inserts.)
You will still have everything you need to conduct your experiments and lessons—in digital format.  All the lesson plans and activities associated with our products are now available for free download from their individual product page on our website.  It's the same information, of course, but available to you in a more 'eco-friendly' format.  Just click on the file folder tab called "Lesson Ideas."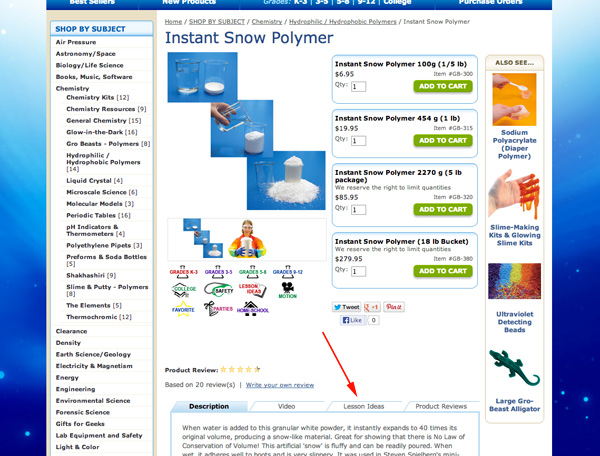 You can also determine which products have lesson plan ideas when you receive your order.  Look closely at your shipping invoice.  A "+" sign in front of the product description means that a lesson plan exists online for your awesome new science material.
Please consider the environment before printing out multiple copies! This is a great opportunity to foster teamwork and cooperation by asking students to share any plans that you have already printed.