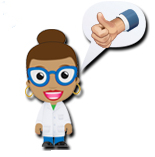 Even the youngest students are drawn to learning about the sun and—by extension—ultraviolet light.  
Our line of UV products
gets rave reviews from science teachers, artists, nursery schools, summer camps, skin cancer awareness fundraising groups… In other words, everyone under the sun!
Here's what customers are saying about some of their favorite ultraviolet light materials.
If you have a favorite Educational Innovations product, let us know!  We'd love to share your review with your fellow teachers and science lovers.