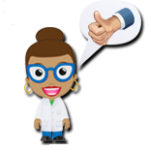 At  Educational Innovations, we love green science all year long, not just on Earth Day!
With our planet's fossil fuel resources becoming scarce and increasing global concerns over pollution, it's more important than ever to explore alternative, renewable sources of energy.  One of the best ways to persuade people to "go green" is to make them realize how cool it is to rely on our sun, wind or water for energy.  That's why we strive to choose green energy products that are educational… AND fun!  Read on for "organic" reviews from our customers.
If you have a favorite Educational Innovations product, send us a comment below!  We'd love to share your review with your fellow teachers and science lovers.