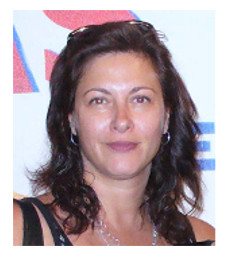 If we've said it once, we've said it a hundred times: students retain more when they can see, hear, and touch what they're learning about. And when the topic is science, there's PLENTY of opportunities for hands-on exploration! That's the essential nugget of why we created our Surprising Science for Kids series: to give students a learning experience they won't forget.
Introducing the Lineup…
Our first kit was Surprising Science for Kids: MAGNETS! Our goal was to produce a collection that would entertain while teaching young scientists the fundamentals of magnetism. Three years later, it's still one of our best sellers. Teachers in grades K-4 love the variety of hands-on components for their tabletop science stations. Parents are excited to see their children exploring science on their own, guided by the kid-friendly workbook filled with explanations and instructions.
Most of all, kids simply love playing with magnets! As one parent reviewer wrote, "I bought this kit for my daughter's class (2nd grade) magnet experiments. All the kids absolutely loved it! Magnets are so colorful and easy to use. The kit comes with instructions and ideas for different fun experiments."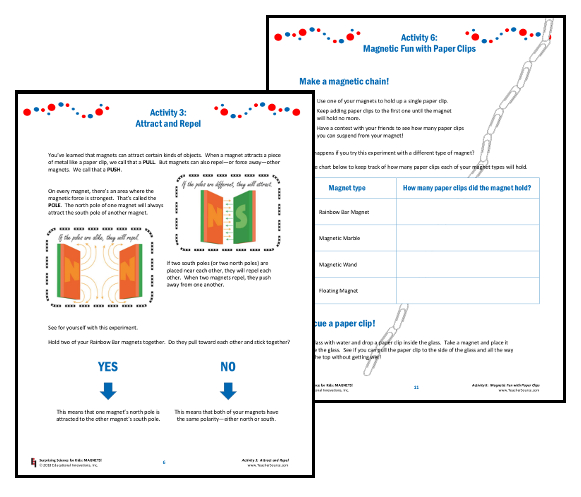 It wasn't long before we added new topics to this series (all available exclusively from Educational Innovations). As of this writing, we've published 12 different Surprising Science for Kids kits… including six available in Spanish.
And more are on the way! Each one is packed with real science and easy-to-follow introductions of the principles involved. Because these kits are meant for individual exploration, kids can move along at their own speed as they build confidence and solidify their understanding.
But Wait, There's More!
There's JUST ADD WATER, with eight hands-on experiments about the properties of water, including cohesion, surface tension, capillary action, and more. As one parent reviewer wrote, "A safe and engaging series of experiments for young ages. Safe for the kitchen table! An excellent choice for mixed-age siblings in remote learning."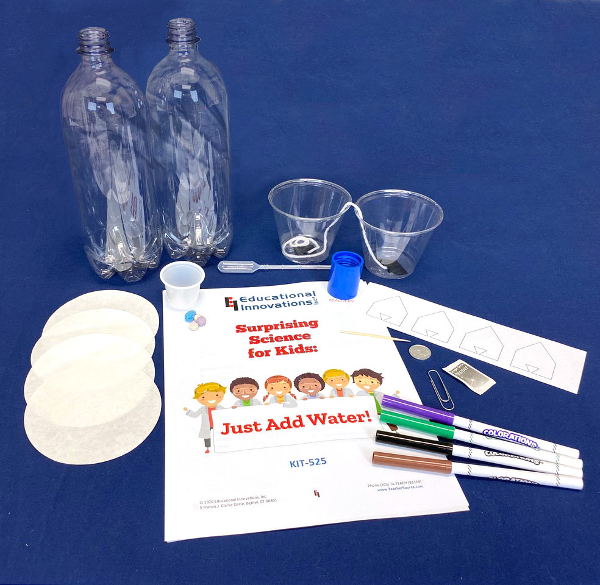 What about FORCE AND MOTION for grades 4-8? Another top seller. It has everything a young scientist needs to learn about Newton's Laws of Motion, energy transfers, gravity, friction, inertia, and so much more.
Can we brag for a minute?  This teacher's FORCE AND MOTION review really made our day:  "Our students loved it.  The hands-on activities were very engaging.  Great resources come in the kit, including an information booklet that explains concepts in a student friendly manner and also serves as a journal/worksheet for the students to record observations.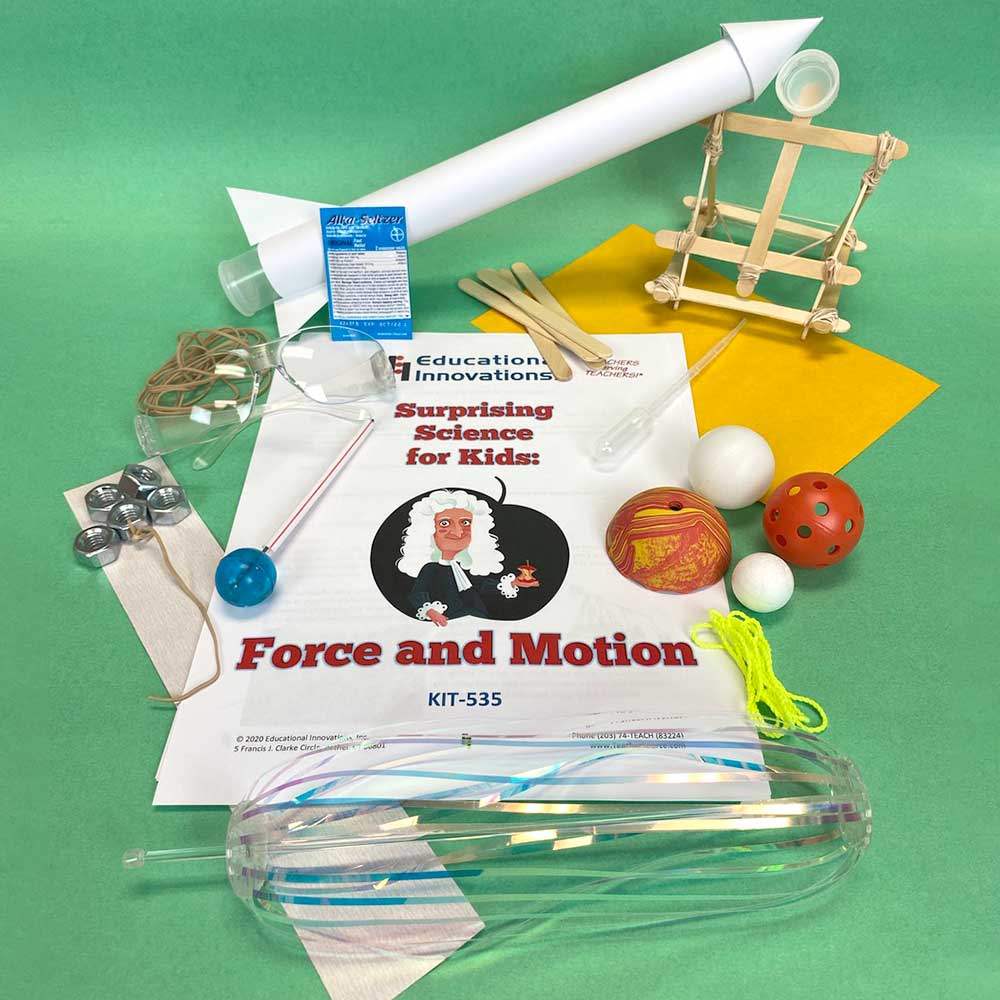 There are many STEM kits out there but this is the only one I know of that comes with student sheets.  Activities are scaffolded and STEM concepts build throughout each activity/lesson.  By the end of the program, students felt like engineers."  
We think Newton would be proud.
My own personal favorite is MAGIC? NO, IT'S SCIENCE! As the title suggests, this kit for grades 3-6 delves into a wide range of science subjects—all of them examples of "can you believe your eyes?!" science at its best.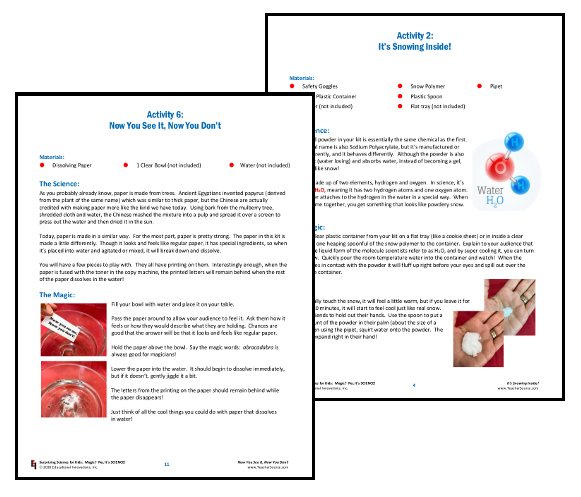 Even More Surprising Choices
Need more choices? There's the best-selling ELECTRICITY kit (grades 3-8)… Plus SINK OR FLOAT (grades 3-6)… And the big brother of MAGNETS, titled MORE MAGNETIC ADVENTURES (grades 4-8). Each one includes seven unique experiments that guarantee many hours of hands-on exploration and learning. Finally, if life science is your thing, take a peek at LIVING THINGS, or OCEANS, or GERMS & YOU or our newest entry, INTERESTING INSECTS.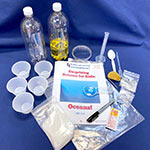 So What's the Secret?
I recently spoke to Tami O'Connor, our CEO (Chief Educational Officer) and author of many of our Surprising Science for Kids kits. "This series has always been popular with teachers and parents of K-8th graders," she says, "but during the pandemic we've seen an explosion in interest." There are plenty of reasons for this boom. Parents are eager to find productive ways to keep their children away from the ever-present computer screen. Teachers doing remote learning are thrilled to find a ready-made solution to the question, How can I keep my students engaged in hands-on learning? Virtual summer science camps are gearing up for a season of long-distance fun and learning—and our kits fit the bill perfectly!
So there you have it. We're proud of our Surprising Science for Kids series, and hope you'll take a moment to learn more about them.
Surprising Science Update!
Just when we thought our kits couldn't get any better, we've added a new digital twist!  With every Surprising Science for Kids kit, we are now including a FREE online learning adventure.  Your kit will come with instructions for an interactive science quest that will reinforce and broaden children's understanding of the concepts presented in their kit.  These animated learning stories, scaffolded mini-lessons, and quizzes bring learning to a whole new level.  We are very proud to partner with STEMWerkz on this exclusive combination of hands-on and digital experiences. You can read our blog or click here to learn more!