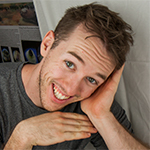 By: Will Wharton, Backyard Brains
Looking to impress your grant providers with DIY neuroscience? With Backyard Brains kits, it's easy!
Recently, biology teachers at Okemos High School (Ann Arbor, Michigan) requested and received grant funding to introduce several Human-Human-Interfaces into their classrooms. The results left their students stunned…
This cutting-edge kit allows students to learn exciting neuroscience concepts first-hand (pun intended).  Your brain sends an electrical impulse to your arm's muscles, telling them to move, and when your muscles move, this generates an even larger electrical signal. You'll take that electricity, then further amplify it and inject it into the nerves controlling another person's arm.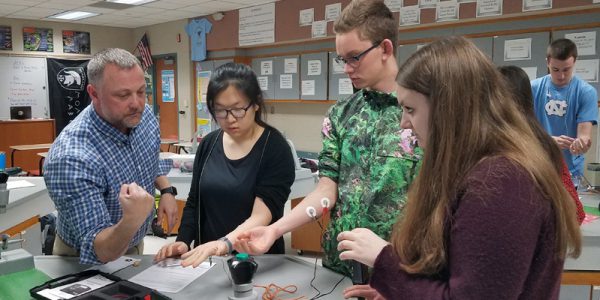 "This feels so weird!" was a common exclamation. By experimenting with the Human-Human-Interface, students learn about how the brain sends and receives signals to their muscles with a mind control experiment.
The Human-Human-Interface is a device created by Backyard Brains, developers of K12 neuroscience educational resources. It works by listening in on the nervous system: when one student flexes, their brain sends an electrical signal through their body, activating their muscles. The Human-Human-Interface records that electrical signal, then amplifies it and sends it into another students arm, causing them to involuntarily flex their muscles! This "Mind Control" phenomena is exciting and fun in the classroom, but also serves to clearly model the relationship between our brain, nervous system, and our muscles, making it great for Biology and Human Body Systems classes.
Teachers have described Backyard Brains kits and experiments as "grant-bait."  They mean that in the best way possible.  By combining elements of Neuroscience, Biomedical Engineering, and Project-Based Learning, students using kits like our Human-Human Interface are exposed to cutting-edge concepts in advanced scientific fields without breaking the budget.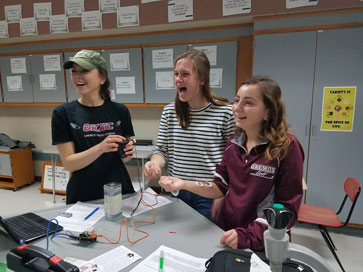 For many schools, enrichment materials just aren't in the budget. That's why we're always excited to see schools finding funding through local foundations, universities, educational service centers, and even PTO's and crowd-funding websites like DonorsChoose.org.  If you are seeking funding and not sure where to start, here's a tip.  Try speaking with your administration first and looking for any local or regional educational foundations like the Okemos Education Foundation. There are also state and national grants available through organizations like the NEA Foundation.
Think about it: When was the last time your grant provider thanked YOU for your request?
"The OEF is grateful to the OHS biology teachers for requesting this equipment and helping to inspire our own students here in Okemos."
The students are excited, the teachers satisfied, and the grant foundation is happy to see their investment put to good use. Everyone was inspired by the power of Neuroscience in education and learned more about how their brains and bodies worked. Sounds like a good deal to me!

In fact, just recently we received this message in an email this week from a 7th grade science teacher who introduced her students to the nervous system with the Human-Human-Interface:
"Everything went perfectly with the tech I ordered from Backyard Brains! My students were extremely engaged; it was a perfect way to introduce the nervous system to them. I have recommended your products to other science teachers in the area and will be looking to order more in the future for my classroom.

Thank you for all that you do!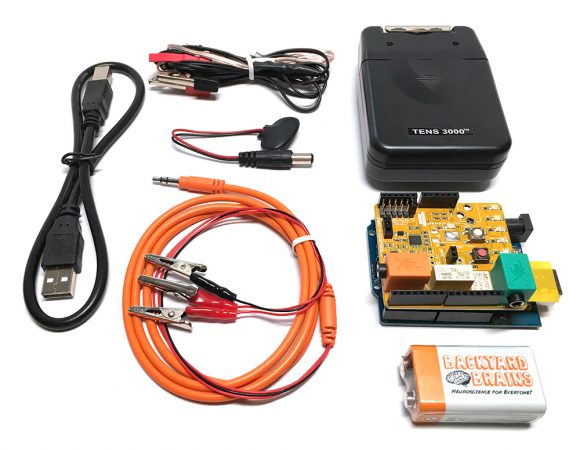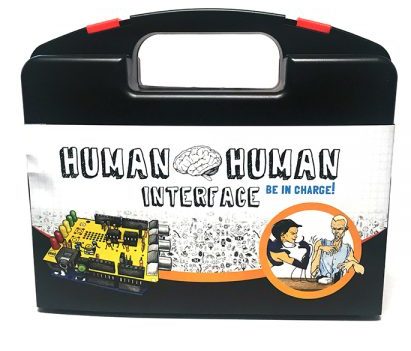 Featured in a Viral TED talk (over 8M views) given by the co-founder of Backyard Brains, the Human-Human-Interface brings the cutting edge of neuroscience to your classroom, but there is more to it than just one demonstration! With this kit, you'll also be able to work on Arduino projects, Muscle Physiology labs, and independent neuroscience research – see this example from a 12th grader's research project!

About Backyard Brains
A staggering 1 in 5 people will develop a neurological disorder in their lifetime, making the need for neuroscience studies urgent. Backyard Brains passionately responds with their motto "Neuroscience for Everyone", providing exposure, education, and experiment kits to students of all ages. Founded in 2010 in Ann Arbor, MI by University of Michigan Neuroscience graduate students Greg Gage and Tim Marzullo, Backyard Brains has been dubbed 'Champions of Change' at an Obama White House ceremony and has won prestigious awards from the National Institutes of Health and the Society for Neuroscience.