Air Pressure Videos!
It's no wonder air pressure is one of our favorite science topics at Educational Innovations.  There are so many different aspects to explore… and no limit to the amount of "Super! Wow! Neat!®" reactions you'll get from your students.  Whether you are teaching at the elementary school or university level, the subject of air pressure always leaves an indelible impression.
If you come across a video you'd like us to add to this list, leave us a comment below, and be sure to check out our selection of air pressure science activities!
Old School Science on Display
Newspapers and rulers are so yesterday… or are they?  Invite your students to try this for themselves.  We are pleased to share Scientific American's "Suction Science," an excellent lesson for breaking a ruler with nothing but some newspaper, your hand, and—of course—air pressure.
---
The Enhanced Fujita Scale
Nearly three-quarters of all tornadoes occur within the United States.  They are unpredictable and can cause massive damage.  The Enhanced Fujita Scale is how we determine the ferocity of a tornado.   They're classified based on the damage they cause, from F-0 to F-5.  Check out this excellent explanation.
---
Air Pressure According to Bill Nye
What can we say?  There's really nothing better than Bill Nye explaining air pressure.  Click here or on the image below to watch Bill do his thing.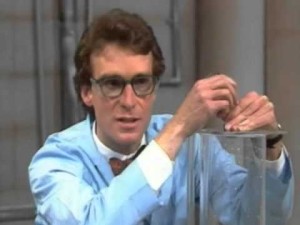 ---
Tornado Tube, Anyone?
Our Vortex Bottle Connectors have been used in thousands of classrooms around the world.  There's just something about a tornado in a bottle that never ceases to fascinate us.
---
 Air Zooka Wins our First Annual Film Festival!
When we decided to run a film festival, we had no idea what kinds of entries we would receive.  This delightful video, made by two current pre-service science teachers, Monica Sieg and Natalie Haller, caught our attention and left us grinning.  After all, who doesn't love a torroidal vortex?
---
Who says you can't play with your food?
And then there's the old Milk Bottle Demo… a classic!  Whether we use it with water, hard-boiled eggs, birthday candles or even hair blowers (!!), we always love the reaction we get from this versatile air pressure demonstration.  To learn even more tips on how to use a milk bottle in the classroom, check out our "Science Never Sucks" blog.
Air Pressure Videos  – Educational Innovations Blog