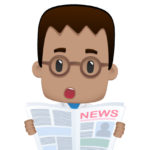 Even folks who don't teach science are interested in air pressure—whether or not they know it.  Isn't that why we tune into weather reports?  Air pressure covers so many topics, it's hard to imagine a day without air pressure in the news.
If you come upon an interesting science news article, please share it with us in the comments below.
What's the latest?  Take a look…
Splashy Science:  What's Air Pressure Got to Do with It?
Researchers have been studying splashing for over 100 years, but it wasn't until a graduate student at the University of Chicago was taking high-speed pictures of drops falling in a vacuum chamber that scientists realized the amount of splash depends upon the amount of surrounding air pressure.  With less atmospheric pressure, the drops squish down without fragmenting into tinier droplets.  Something to think about the next time you're tip-toeing through the raindrops!
---
3, 2, 1… Blast Off!
It doesn't have to be Halloween to enjoy some pumpkin blasting.  How do these blasters work?
On a similar (but sweeter) note, our Marshmallow Blaster is the most fun we've ever had teaching air pressure.  Simply pump the blaster to increase the air pressure in the chamber, load a large marshmallow into the pressure chamber, and watch the pressure differential blast that marshmallow 40 feet through the air!
---
Harbottle Hijinx!
The Harbottle Air Differential Demonstration displays the effects of air pressure in a pretty unique way. Your students are sure to be impressed by this graphic illustration of how air pressure works.  Check out one of Educational Innovations' workshop presenters being interviewed about this discrepant event demo.   The interviewer is in for a big surprise!
Air pressure in the news