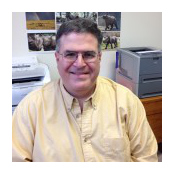 by: Ted Beyer
I am sure that many of you reading this have ordered materials from Educational Innovations in the past.  You might not pay any attention to the packing list that comes with your order, but I'll let you in on a little secret—that piece of paper can tell you something about the inner workings of Educational Innovations.
There should be at least two rubber stamps on that sheet.  One, in green, says "Picked by" and a name; the other is red and says "Packed by" and another name.  The names for "Picked By" and "Packed By" will always be different—that way, at least two people have looked at the order to make sure you get exactly what you ordered.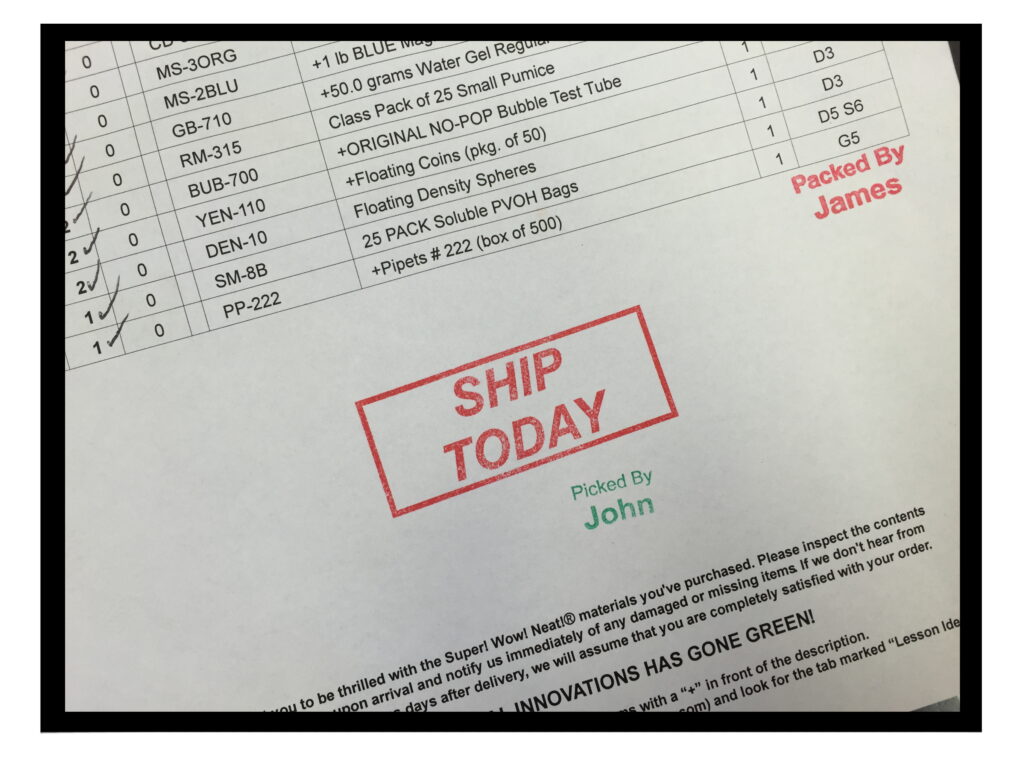 Okay—let me jump in here with a word of explanation.  When your order arrives here at EI, it is processed by our customer service team, and put into our computer system.  The paperwork then goes to our picking department.  Picking is pretty much what it sounds like—the items on your order are "picked" off the shelves in our inventory area and put into a bin that then goes to the shipping department to be checked, and packed, labeled, and eventually handed off to the carrier—usually UPS or the Postal Service.
Anyhow, it's the names that I thought you might find of interest.  You see, at EI, everyone pitches in wherever and whenever they are needed—from the very top on down.  Lately, we have been very busy indeed, so you will see a few names that you don't see all the time.
If you recently got an order, snag your packing list and follow along so you can meet the team!
Packed by James
James is our Shipping Manager.  He's been with us for about a year now, and does a great job making sure that not only all of our boxes leave here with the correct materials in them, but that we have enough boxes to put everything in.  As James packs, it's not unusual to hear him singing along with any pop song on the radio.  At times, ear plugs are worn by others working around his area…  I'm not saying there's any correlation between the singing and the ear plugs… James is a proud Army veteran, and we are happy to have him with us.
Picked by John
That's John Schirmer, our Inventory Manager.  John has also been with EI for about a year, and he makes sure that we know where to find everything in inventory, and takes care of having everything EI makes, assembles or creates made, assembled or created.  Big job, but John makes it look easy.  John has twin daughters who are currently student teaching in local schools, and will be out looking to make a difference in the lives of their students in September!
Picked by Ted
Ok, that's me, Ted Beyer.  I spend most of my time buying everything that EI sells, or the parts needed to make the items we manufacture in house.  I also do all of the logistics and planning for the many science shows we attend.  I've been with EI for nearly 12 years.  I started out in customer service, but have done just about everything there is to do around here.  Chances are, if you have been to a show we are at, you have seen me demonstrating the Chinese Spouting Bowl or our Eddy Current Tubes or any number of other things.  I also offer a workshop on discrepant events called What the Heck Happened!?! that's a lot of fun.
Picked by Anthony
Anthony Lukacs, Renaissance man.  Anthony is our finest utility infielder.  Having been with EI for 11+ years, he has had his finger on nearly every aspect of the company at one time or another.  Currently he tries to keep us all straight on our ever-evolving computer systems among other things.  His memory and attention to detail is legendary.  If you need it done right—and right now—Anthony is the guy to tap for the job.
Picked by Nina
Nina is a wiz in our customer service department, and specializes in taking care of our international customers, who often have very specialized shipping needs.  It's not unusual to speak with Nina if you call us to ask questions about the products we provide or to place an order with us.  She recently worked the booth with us at the NSTA National meeting in Chicago, and only proved that she is perfectly capable of translating the skills she shows in our office to the show floor—only her feet hurt more.
Picked by Ken
Ken Byrne is our General Manager, and has been with the company for just about 15 years.  Ken always seems to be the calm at the center of the storm, and more often than not, if a problem exists that no one can seem to get a handle on, it's Ken who comes up with a solution.  Just don't ask him to handle our Aerogel.  For some reason, whenever he touches a piece he manages to cause it to shatter, so we keep it as far away from him as possible.  Ken's wife is a long-time classroom teacher, and is just starting a new assignment as STEM Coach for her elementary school.
Picked by Tami
Tami O'Connor is our fearless leader, and the head honcho here at EI.  And yes, you really will see her stamp more often than you might think.  Tami has been with EI since the beginning, and back then she was a full time classroom teacher—so she knows what all the teachers we serve go through on a daily basis.  She is a very hands-on leader, and takes good care of all of us.  But like all the rest of us, if it needs doing, she is there doing it with the rest of us.  At shows, she often has standing room only for her forces and motion workshop, 3-2-1 Blast Off!
Packed by Willie
Big Will is another one of those multi-talented folks that EI values.  He is equally comfortable putting products together, picking and packing orders or putting price tags on the over 8,000 items that went with us to Chicago—by himself.  Willie makes things happen—and no matter how much we praise his efforts, he always insists that "I'm just a worker."  And a great worker he is.
Picked by Caitlyn
Caitlyn just happens to be the daughter of the boss—Tami O'Connor—and when she is not in school, she is often found helping out at here at EI.  We have all watched her grow up to be a lovely young woman, not to mention a mean violinist.
These are only the usual suspects—other folks will jump in now and then as well.
Hopefully you enjoyed meeting Educational Innovations' Pick-and-Pack Gang.  Now you can put some faces to the names on your paperwork.