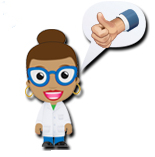 Teaching forensic science is always fun—especially when you use equipment like fingerprinting pads, blood typing kits, UV flashlights, and of course magnifiers.  (Don't forget the Crime Scene Tape!)  Many of our customers swear by these materials as a compelling way to "set the stage" for memorable learning.
If you have a favorite Educational Innovations forensic science product, we invite you to send us a comment below.  We'd love to share your review with your fellow teachers and science lovers.
Great kit for teaching fingerprinting!  I bought this for a fingerprint unit in our forensic science class.  The kit contains everything you need in order to dust and lift prints.  The only drawback is that the powder gets everywhere when dusting.  (Students do not necessarily understand that a little goes a long way!)
     ¨ —Corrinn Bruce of Eugene, OR
¨
¨
Love 'em!  These loupes are affordable and durable.  Every time I use them, students are amazed by what they see and how easy they can "pirate" around with one.
¨ —Amy of Richmond, New Zealand
¨
¨
Great quality!  I thought plastic magnifiers would get scratched so quickly that they wouldn't hold up for more than a couple of uses.  These stand up well and really offer good power of magnification.
¨ —Louise of Atlanta, GA
¨
¨
Great fun!  My 16 year-old daughter and I LOVE escape rooms, and when we purchased this product it was with low expectations.  After all, how could they make a game that's as interesting and exciting as the actual escape room?  Well, guess what…  They did!  Though it took us an hour-and-a-half to solve the puzzles, we had a blast doing so!  I'm not sure who actually designed these games, but they are truly clever people!  We did the Abandoned Cabin, which is supposed to be the easiest of the three, and we are now ordering the Pharaoh's Tomb.  As soon as The Secret Lab comes in, we're ordering that one, too!!!  Too bad there are only 5 stars available, because I would give this one a 6!
¨ —Megan of Phoenix, AZ
¨
¨
Easy to use, easy to clean, the pad doesn't dry out, and the ink is easy to wash off.  I used this in my forensic science unit, and students loved it.  This gives very clear fingerprints (unlike a regular ink pad which is much more blurry).
¨ —Dorothy of Berkeley, CA
¨
¨
Our CSI unit is usually done towards the end of the year and is one of the most anticipated.  Aside from fingerprints, we also do dustings and lip prints.  Watching the students analyze their prints and compare them with their classmates is incredibly rewarding!!
¨ —Lisa Dizengoff of Coconut Creek, FL
¨
¨
Awesome!  This is the coolest tech toy for your smartphone.  It is simple and lightweight and great for the application for which it was intended.  The magnification for such a small, affordable product really makes it worth it.
¨ —Caleb of Katy, TX
¨
¨
Great project!  My class (and after-school science club) LOVED this project!  We were able to connect solving the mystery in every academic area without the kids realizing they were learning!  Great for the end of the year to keep them engaged!
¨ —Lauren of Arlington, TX
¨
¨
It's the perfect size for maneuvering around a lab or for a quick demo.
¨ —Amy Huff of Twining, MI
¨
¨
Loved these pens.  They are expensive but work as regular pens, too.  I had kids write a message and use "invisible" ink for one word.  We used them for a whole day of black light fun.
¨ —Summer Science Teacher of Greenville, MI¨
¨
My students particularly enjoyed the blood typing exercise.  We found the hair and fiber analysis to be challenging without using additional lab supplies (more slides, magnifying glasses, tweezers, additional pipettes, microscopes).  This is a great kit for the money, especially if you have the additional lab supplies already.  The use of the Prezi slideshow also helped my students focus.
¨ —Jennifer of Franklin, TN¨
¨
Wow, this paper really pulled the students in…  I should have purchased more!
¨ —Mary Kelly of Dedham, MA
¨
¨
Students are working on vocational skills and this product helps with preparing for the real thing.
¨ —R. of Las Vegas, NV¨
¨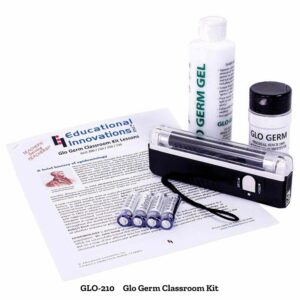 I used Glo Germ to help staff in a lab understand how small quantities of material can cross contaminate other work areas.  Easy to use.  Fun and very revealing!
¨ —Ed of Horsham, PA
¨
¨