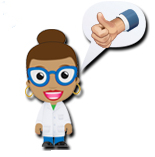 Whenever we attend a science convention, we bring plenty of density demos.  They are invariably among our best showstoppers!  There is something wonderfully confounding—and compelling—about watching a (seemingly) heavy object float against our expectations, or seeing (seemingly) identical beads travel in separate directions.  This curiosity is the heart of why discrepant events are so valuable to educators.
Is it magic?  No, it's density!
Is your favorite Educational Innovations' density product on this list?  If not, write to us in the comments below and let us know what we forgot!