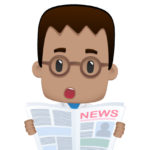 This edition of IN THE NEWS is a bit different from our other newsletters.  We usually share articles about fresh science discoveries— advances in scientific research, breathtaking new photos of our universe, the discovery of a new deep ocean species… any sort of remarkable scientific event you might enjoy discussing with your students.
But this time, for our Back-to-School edition, we've dedicated our news search to you, the teacher.  Whether you're teaching elementary science or advanced physics, these are thought-provoking pieces that you might decide to share with a colleague… just as we are!
We stumbled upon an interesting list of 14 Things You Should Never Do on the First Day of School.  
www.brilliant-insane.com/2015/08/14-things-teachers-should-never-do-on-the-first-day-of-school.html
Ever hear of "energy literacy?"  It's bound to be a growing topic.  
This summer the US Department of Energy teamed up with the Smithsonian Science Education Academies for Teachers to promote an understanding of renewable energy resources in the classroom.  The result?  An impressive collection of free resources on bioenergy, geothermal energy, hydrogen cells and more.
www.energy.gov/articles/teachers-go-back-school-energy-department
Back to school learning isn't just for kids.  Check out these 9 Super PD Seminars for Science Teachers.
www.weareteachers.com/blogs/post/2015/07/14/9-back-to-school-learning-perks-for-science-teachers
Who are the coolest science educators to follow on Twitter?  Here's a list of the Amazing Science Teachers You Wish You Had in School.
www.wired.com/2015/05/amazing-science-teachers-wish-school
Teachers are always seeking ways to bring exciting new materials into their classrooms.  Here are a few trusted lists of Grant Opportunities for science teachers.  Dive in!
http://teach.com/what/grants-for-teachers
https://www.sciencepioneers.org/teachers/grants
www.fundforteachers.org/funding-opportunities/grants-science.php