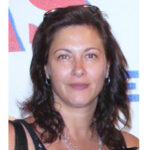 By:  Donna Giachetti
Around the EI offices lately, something magical has happening.  Folks are laughing more… There's a lighter spring in their step and a happy-go-lucky chirp in their voices…  It's as if we have all become enchanted.
Well, let me amend that…
EI employees are a very grown-up, responsible bunch.  They take pride in doing their jobs as well as humanly possible.  If you haven't yet read Ted's blog (EI's Pick-and-Pack Customer Service Crew), don't miss out!  It's a paean to the hardest working group of individuals I have ever met.
The only person in this dizzy state of delight is me—and even then, I doubt my colleagues would agree to call me "enchanted."
Why?
It's because of this thing.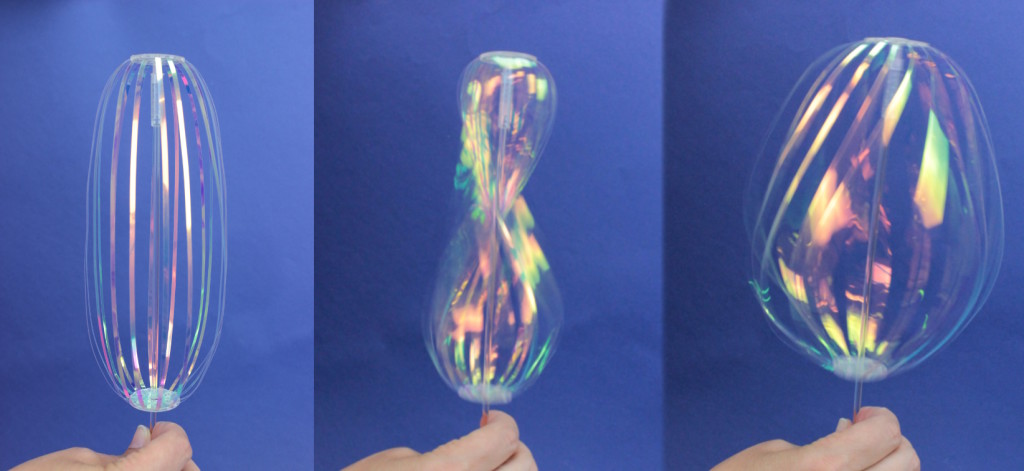 One Enchanted Afternoon
I first gazed upon it at a trade show where a pretty young woman stood demonstrating it for anyone who bustled past her booth.  All she did was rub her fingers together and smile.
Immediately I was mesmerized by the shape-shifting, unpoppable bubble that seemed to float above her hand.  What was it?  I knew that we sell some cool No-Pop Bubbles at Educational Innovations, but ours certainly never flitted from one shape to another!
I stretched out my hand tentatively.  "Can I try it?"  She gave it to me.  That's when I realized it was a wand encased in a ring of thin, silvery strips of Mylar®.  All it took was a subtle twisting motion and—there!—I beheld a bevy of colors that shimmered and shapes that shimmied.
If there were a soundtrack of that day, I am certain the swelling violins of Tchaikovsky's "Romeo and Juliet Fantasy Overture" were somewhere in the background.
EI's Teacher-in-Chief, Tami O'Connor, was with me that day.  (I never asked whether she, too, heard violins.)  Immediately she remarked on the many Super! Wow! Neat!® science lesson applications we might associate with this magic wand.
"Centripetal force!  Refraction!  Light diffusion!  Newton's Third Law!"  She reeled off at least a half-dozen ideas.
Very impressive display of quick thinking, Tami!  But nothing was impressing me in that moment—except for the gizmo in my hand.
Introducing the… ??
A deal was struck and plans were made to add this little gem to our catalog.  But first we needed to name it.  We passed a few samples around the office.  Everyone wanted to try it:  the guys in shipping, the customer service staff, the bookkeeper, and even Ted.  We welcomed all suggestions—the good, the bad and the weird.  As names go, we needed something distinctive, evocative.  After all, this was our new favorite product.
For me, there was only one name that fit this magical, majestic device:

The Spinny Scepter!  What could be more evocative?
"Not scientific enough," Tami decided.  (Sigh.)  If you've ever watched The Big Bang Theory, you will understand when I say that Tami is always the Sheldon to my Penny.
So we ran a campaign on Facebook, Twitter and other social media asking our customers and friends for help finding the perfect name.  Dozens of suggestions were made.  Some included the word bubble; others mentioned jellyfish.  A few made us scratch our heads.  Whooskerdoo?  Flubble?  Globulus?  Whirlywhoosit? 
Ultimately, thanks to Evan Jones—a retired physics teacher from Sierra College in Rocklin, California—we decided upon Centripetal Spinner.  It's a good name—scientific and graceful at the same time.
Questions Galore
I could go on singing the praises of this "toy."  The most glorious thing about it?  It embodies exactly the type of unique product that continues to set Educational Innovations apart from other science material suppliers.  It's fun.  It's irresistible.  It's hands-on experimentation in its simplest form.  It leads to questions, hypotheses, tests and—of course—more questions.
For instance:
Why do the clear bands seem to change colors when you view them against different backgrounds?

What makes it twirl into a figure 8 (or snowman) shape?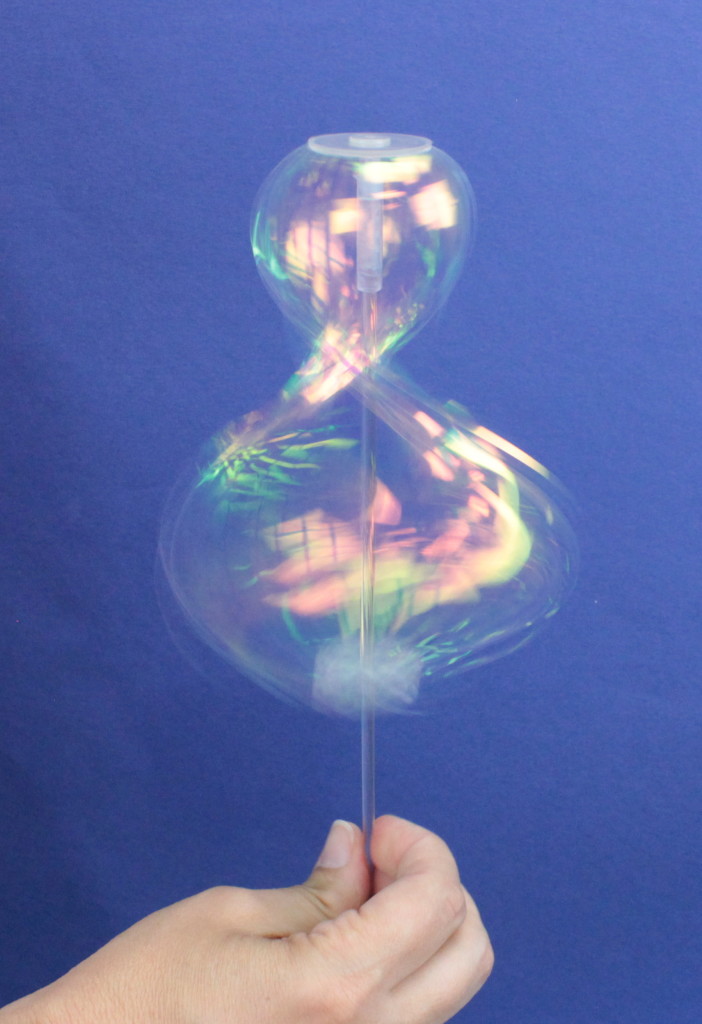 How do you make the little flower shapes?
What is the trick behind turning the flower inside out, so it transforms into an umbrella?
(You really must see it to believe it!)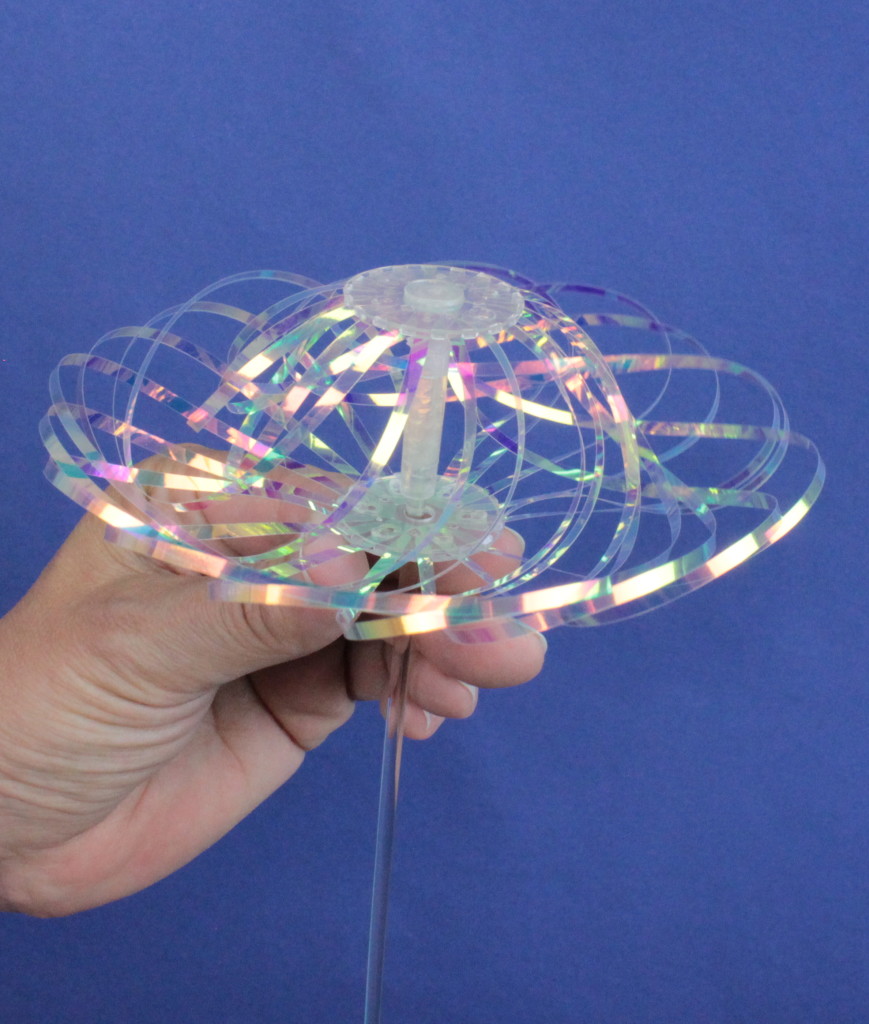 Hi-Ho, Hi-Ho, It's Off to Work We Go…
In the last few weeks, we have done all the things that are required to bring a new product to market:  photo shoots, copy-writing, catalog design work, website marketing, and more.  But as I pointed out above, there was something different this time.  The magical Spinny Scepter—um, Centripetal Spinner—seemed to bring out the child in all of us.
In my case, it revealed the Disney princess locked away inside me.  Quite a shock to all—myself included!  But seriously, you haven't lived until you've heard me sing my rendition of Bibbidi-Bobbidy-Boo (with apologies to the Fairy Godmother):
Cen-TRI-petal SPIN-ner
Oh, you're a winner
Bibbidi-bobbidy-boo
Refraction and friction and Newton's Laws, too!
Bibbidy-bobbidy-boo.
Yet I'm afraid I may have annoyed my office mates, who sometimes discovered me deep in contemplation of the Spinner.  Their arched eyebrows silently accused me of not being hard at productive work.  Hey, I was developing a lesson for it!  Need to do some research, right?
Worth One Thousand Words
It was great fun working on our teacher's resources.  The hard part was limiting ourselves to just a few scientific applications.  We chose inertia, friction, gravity, and interference.  You can check out our free Centripetal Spinner lesson ideas here.
Even now as I write this blog, I have my very own Centripetal Spinner by my desk.  I play with it often—perhaps more than I should!  Sometimes in my zealous twirling, I manage to tangle it up.  But I quickly discovered how to undo the knots.
That's another thing about the Centripetal Spinner:  you learn from your errors, just like scientists in the lab.
In fact, that discovery has led to other, even greater feats:  now I can make a tiny hourglass shape, or a lovely curlicue that reminds me of the kind of flowing hair you might find on… well, on a Disney princess.
If you have ideas on how the Centripetal Spinner could be used in the classroom, write to us at lessons@TeacherSource.com and I promise, we'll be in touch faster than you can say "bibbidi-bobbidy-boo."