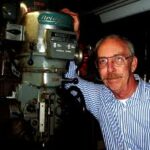 by: Martin Sagendorf
This 3D Magnetic Field demonstration is actually quite easy to do.  It clearly illustrates that magnetic fields are not flat (as too frequently demonstrated in the classroom).
Demonstrating a 3D Magnetic Field
This easy-to-make construction requires only four components:
A clear plastic bottle (about 1-3/4" in one dimension) – the one illustrated below is a 12.6 fl oz ultra concentrated Joy ® dishwashing soap bottle – Note that any bottle originally containing soap or detergent will require repeated rinses to completely remove all of its original contents.

Six 17 mm x 3 mm Neodymium ring magnets
A very small quantity of fine iron filings
2 lengths of ¾" x 3" clear tape (clear 'packaging tape' works better than the usual roll-type transparent tape)
The low cost of these materials and their reusability makes this an ideal class-wide experience.  Further student explorations are readily accomplished by using a variety of magnet types, numbers, locations, polarities, and shapes.  Applicable magnet types (also available from Educational Innovations) are
Ceramic Bar Magnets (0.875" x 1.875")
Ceramic Ring Magnets (1.25" O.D.)
Neodymium Ring Magnet (0.75" O.D.)
Neodymium Large disk (1" O.D.)
Similar 3D Magnetic Field demonstrations can utilize larger magnets and larger bottles.  This one uses a 2-1/2 inch diameter bottle and two large (2" O.D.) ceramic 'donut' magnets removed from the magnetron in a discarded microwave oven.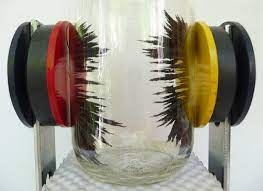 And this one illustrates the magnetic field created by a 2" O.D. ceramic 'donut' magnet placed under a 2-1/2" diameter bottle.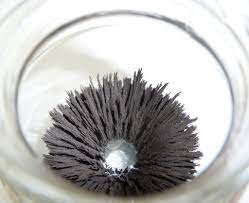 CAUTION: Rare earth magnets are very strong and very brittle.  They will attract each other quite unexpectedly.  There always exists the possibility of fractures and flying pieces. Everyone MUST wear safety glasses/goggles when working with these magnets!
Marty Sagendorf is the author of the book Physics Demonstration Apparatus. This amazing book is available through Educational Innovations and includes ideas and construction details, including all equipment necessary, for the creation and use of a wide spectrum of awe inspiring physics demonstrations and laboratory equipment.  Included are 48 detailed sections describing hands-on apparatus illustrating mechanical, electrical, acoustical, thermal, optical, gravitational, and magnetic topics.  This book also includes sections on tips and hints, materials sources, and reproducible labels.