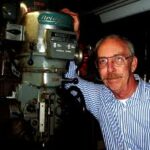 by:  Martin Sagendorf
An Odd Name: They're named for the German physicist Ernest Chladni who popularized them in the mid-1700s.  His name is pronounced: kläd'nêz.
Chladni Plates are: Thin plates (sprinkled with fine particles) vibrated perpendicular to their plane.
How? – Then and Now: Long ago Chladni used a cello bow to excite the edge of a thin metal or wooden plate.  Today, we can use an oscillator, amplifier, and an electro-mechanical oscillator.  We have a great advantage, we can easily vary the frequency of excitation thereby providing a whole vista of experimentation.
A 17 in. x 14 in. Chladni Plate in guitar shape at 200 Hz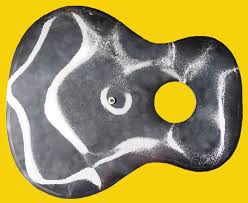 The same piece at 235 Hz.  There are many more resonances at higher frequencies
What the Chladni Plates do:
Vibrate (in multiple modes) as functions of:
plane dimensions
mass per area of the planes
excitation frequencies
locations of excitation
Why do This?:
To study the resonance conditions of the (usually) wooden parts of stringed instruments; e.g. violins, oboes and guitars – although similar studies are applied to pianos, drums, cymbals, and bells.
In Practice:
The plate under study is (often) vibrated (and supported) at its center of gravity
Salt is sprinkled on the plate's surface
Starting with the vibration at a low frequency (e.g. 100 Hz), slowly increase the frequency until a first resonance is obtained – adjust the amplitude of vibration as necessary to achieve salt migration – you should be able to hear the sound – too much amplitude will cause excessive motion of the salt (and poor patterns)
Successive resonances are observed with the salt moving from pattern to pattern
'Rock' the frequency very slowly around a resonance point to achieve exactly the resonance frequency (sharp salt lines)
12" Square Chladni Plate
At 258 Hz.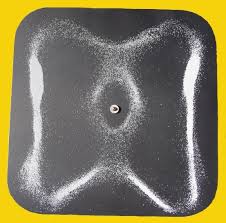 Increasing the driving frequency causes the salt to move into the next higher resonance patterns
At 495 Hz
At 870 Hz
At 1259 Hz
All plate shapes will exhibit multiple resonance conditions
Some salt will vibrate off the plate.  Use a large shaker to add salt as necessary.
Why the Patterns?:
When the Chladni Plates achieve a resonance condition, 'standing waves' are created.  This is, in fact, analogous to the similar effect in a vibrating string – except this is in two dimensions.
At resonance, the plate's anti-nodes will be oscillating up-and-down energizing the salt – the salt will (naturally) move towards a lower energy level.  The lower level is a node.  That's where the salt will collect (and remain), creating the lines we see.  These are the lower energy (non-vibrating) zones.
The 'Exciter':
Any commercially available electro-mechanical unit will work well for this demonstration.  However, these units are expensive (>$200).  An alternative is to build-your-own as illustrated in the Physics Demonstration Apparatus Book.  Its cost is a (discarded) mid-range audio speaker, a wooden box and a construction, coupling the speaker's cone to a vertical rod.  Building the unit, as shown in the book, does require some machined metal parts and a little ingenuity can simplify the unit's construction (wooden pieces in place of aluminum pieces).  However, be mindful that the air's varying humidity will affect the 'fits' of wooden components – that's why the book's design utilizes aluminum for the top plate and the rod guide.
The Home-Made Oscillator:
The Plates:
Although wood and cardboard will work, both are susceptible to warping.  For this reason, I make plates of very thin steel and aluminum – typically about 1/64" (0.0156") thick.  My sources are the (discarded) side panels of tower computers and the covers of (discarded) microwave ovens.  Don't attempt to use sheet metal shears to cut plates from these.  Instead, use a very fine (at least 24 teeth-per-inch) band saw blade or a similarly fine-tooth saber saw blade.  These methods yield a flat surface at the periphery of the plate.  The demonstrations do require a very flat surface to produce acceptable resonance patterns.  Be sure to file the edges free of burrs.
Plates in the range of 12 inches (square/round) work quite well.
Drill a hole at the plate's center-of-gravity.  Use a banana plug to connect the plate to the vibrating rod.
Some Additional Patterns:
Two resonance patterns of a 12 in. diameter round disk:
At 175 Hz
At 240 Hz
Two resonance patterns of a 12 in. square with rounded corners:
At 180 Hz
At 290 Hz
In the Classroom:
This is a wonderful real-time demonstration.  And, even better, the plates can be photographed at their resonance frequencies, to be compiled into labs, reports, science projects, as either hard-copy or as PowerPoint presentations.
Endless possible plate shapes provide a great variety of investigations – different sizes of square, rectangular, round, and musical instrument shapes – enough explorations to keep several groups of students truly engaged in fascinating exercises.
Marty Sagendorf is the author of the book Physics Demonstration Apparatus. This amazing book is available through Educational Innovations and includes ideas and construction details, including all equipment necessary, for the creation and use of a wide spectrum of awe inspiring physics demonstrations and laboratory equipment.  Included are 48 detailed sections describing hands-on apparatus illustrating mechanical, electrical, acoustical, thermal, optical, gravitational, and magnetic topics.  This book also includes sections on tips and hints, materials sources, and reproducible labels.