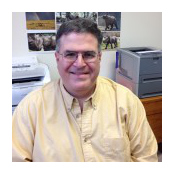 by Ted Beyer
Ever since I was a kid, I have been fascinated with space. I would look up at the stars, and I just knew that other people were up there somewhere, looking back at our little point of light, and thinking the same kind of thoughts.  On the day I turned seven, Neil and Buzz landed on the moon and I was sure that—somehow—when I grew up, I would get there, too.
Incidentally, that's me in the red on the right in the picture below.  And on the left? Well, that's Buzz Aldrin!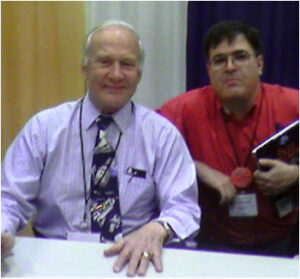 Just a quick note: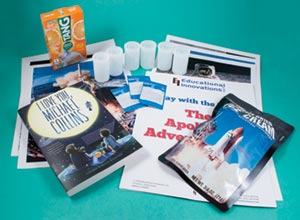 Here we are now, nearly 50 years after that day I was eating birthday cake as we heard "Tranquility base here, the Eagle has landed."
To celebrate that historic landing, Educational Innovations has created an exclusive kit. If you teach science at an elementary or middle school level, I strongly encourage you to check out the Apollo 11 Adventure Kit. It's full of lots of fun and interesting lesson plans and hands-on activities—along with an autographed copy of the award-winning children's book, I Love You Michael Collins. Be sure to check out their selection of astronomy science tools too!
We haven't found anybody yet who isn't enchanted by the pen pal letters that 10-year-old Mamie decides to write to Michael Collins, the Apollo 11 astronaut who stayed with the ship.  Plus, who can resist Tang?!
Back to Meteorites!
Dreams can be dashed by reality and time, but the desire can still live on. I became a collector of all things space…and NASA.  Soon I found that collecting meteorites was not only possible, but also fascinating. Here are objects that spent millions of years wandering through space, only to endure a fiery entry through our atmosphere to end up, astonishingly, in my hands.
The more I researched these space travelers, the more I became awed by their vast variety and appearance. When most people think of meteorites, they tend to think of the Nickel – Iron type (or at least I did). Heavy metal, often pockmarked, objects, dull black or grey. Wasn't I surprised to discover that the Irons make up only about 6% of FOUND meteorites, by number, and 11.3% by weight. In collections, they make up 27.7%. The Chondrites (one form of the stony meteorites) make up 75% by weight and 85% by number found!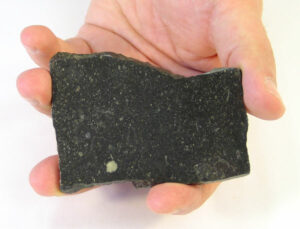 In spite of this, my small collection still only has one stony. My one and only stony (so far); pictured to the left, is a slice of the Ghubra meteorite, which was found in Oman in 1954.
See the white spot on the bottom left side of the specimen?  I am assured by experts that the spot, called a chondrule, is older than the planet Earth by as much as 500 million years!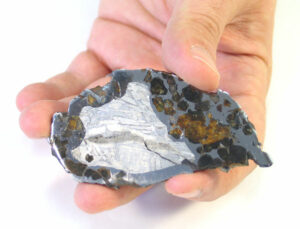 The pride and joy of my collection is one of the rarest types of Irons. A type of Stony – Iron meteorite called a pallasite.
Pallasites are made up of Iron – Nickel, but have crystallized almost gem-like grains of Olivine, a silicate that varies in color from a brownish yellow to an olive green, embedded in the iron-nickel matrix which can rage up to 1 cm or more in size.
These are easily the most beautiful of all meteorite types. As I said, they are also quite rare – making up less than 1% of specimens found. As you might imagine, they fetch a fairly high price (I saved many pennies to get mine).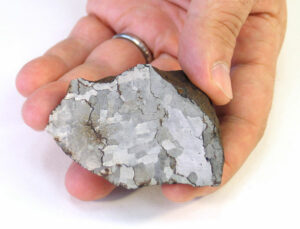 The first meteorite I acquired was one of the most common and best known. The Campo del Cielo (Field of Heaven) meteorite find is truly vast. Known by natives for uncounted years, it was first found and named by Spanish explorers in 1576 in the Chaco province of northern Argentina. The two largest known masses are 37 and 18 tons and are considered national treasures. Tens of thousands of smaller masses ranging from just few grams to hundreds of kilos have been found, and are often found for sale to collectors.
I have been lucky enough to visit the Tucson Gem and Mineral show several times. This is the largest mineral show on the planet, and is held every year in February. These visits have enabled me to see many meteorites (and even buy a few!) and meet several of world's leading collectors and dealers.
On one visit, we were able to acquire some fairly large (300g or so) Campo del Cielos that were in somewhat distressed condition.  Since they were iron and hadn't been properly cared for, they were somewhat rusty.  I spent a fair amount of time figuring out how to stabilize them, and more time actually doing the work to remove most of the rust.  When I was done, they were in pretty good shape.  More could be done, but I thought it might be interesting for our customers to get in on the activity as well. 
While all of those samples are now long gone to happy customers (I wish we had more to share), we do have a nice selection of smaller meteorite  samples of three falls—the Sikhote-Alin from Russia, the Nantan from China, and of course the Campo del Cielo from Argentina. 
I think that people with even a slight interest in space and the unknown will be fascinated by the simple act of holding a meteorite in their hand. An object that has spent the vast majority of its life wandering between the planets—going places that most of us can only dream of going—holds its own magic.