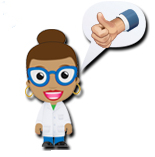 STEM education (Science, Technology, Engineering and Mathematics) is a curriculum driven by problem solving, exploration, and discovery while incorporating technology and engineering into the teaching of science and mathematics.
Educational Innovations carries a number of products like astronomy and space science tools that fit perfectly into the STEM classroom.  These materials promote exploratory learning, and require students to actively engage themselves to discover the solution to the situation or problem at hand.
If you have a favorite STEM experiment or product, please let us know in the comments section below!