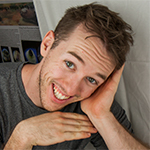 by Will Wharton
At Backyard Brains, our goal is to make advanced science simple!  We develop low-cost versions of high-tech devices to make entry-level neuroscience and human physiology experiments available to everyone.
New to Educational Innovations is Backyard Brains' Heart and Brain SpikerBox.  This simple device makes it easy for teachers and students to record electrical signals from your heart, brain, and eyes—making previously "advanced" science experiments much more accessible for all.
But you don't have to take my word for it—students and educators really are the best advocates!
A Middle School Research Project
First, check out this fantastic research project performed by a group of middle school students in Cincinnati.  They wanted to explore the effects of light exercise on their heart rate.  The students came up with an experiment and recorded EKG data.  They ran into some trouble, fixed their experiment, and finally came to a conclusion based on quantifiable data.  The dream of any science teacher!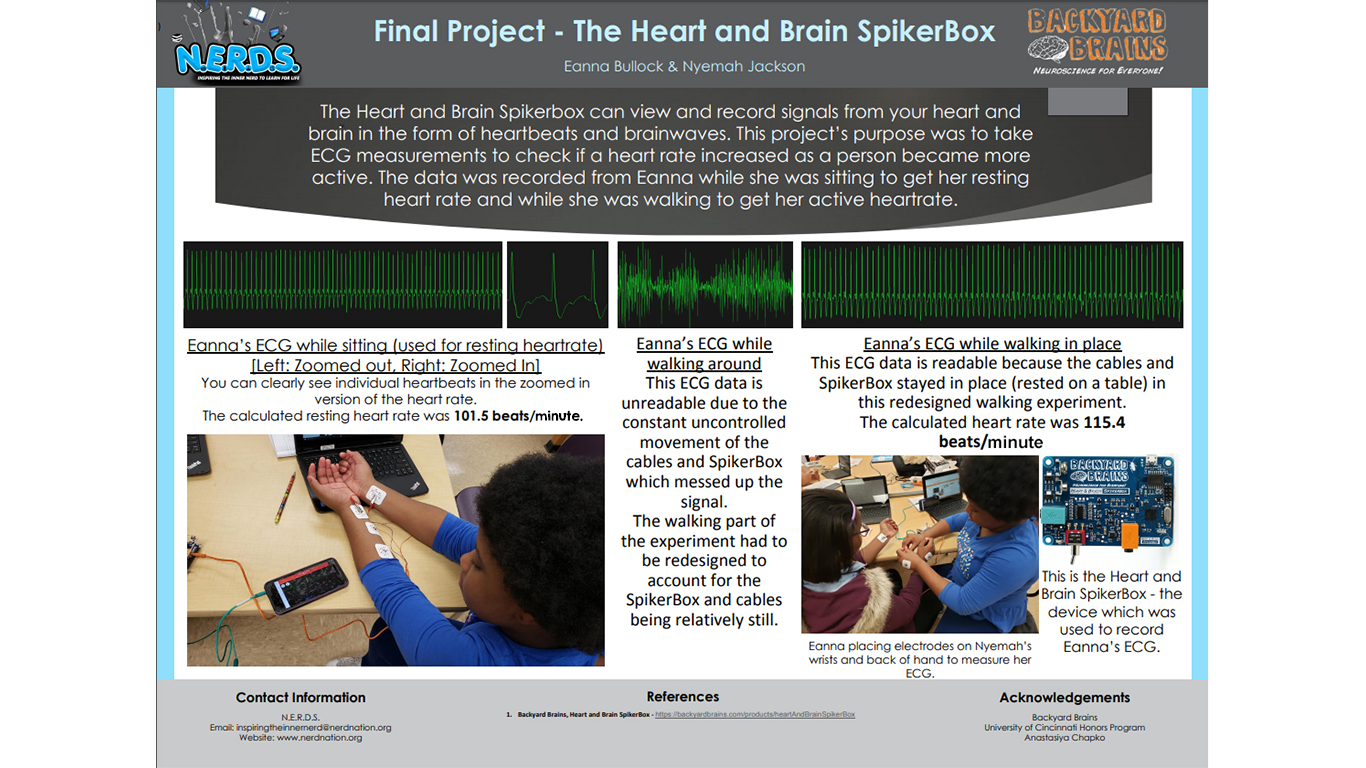 (Click here or on the image above for a full-size graphic.)
Neuroscience on Twitter
Next, for brain recordings, check out this tweet  from an international user in Ireland, as he prepared to use the Heart and Brain SpikerBox for neuroscience outreach!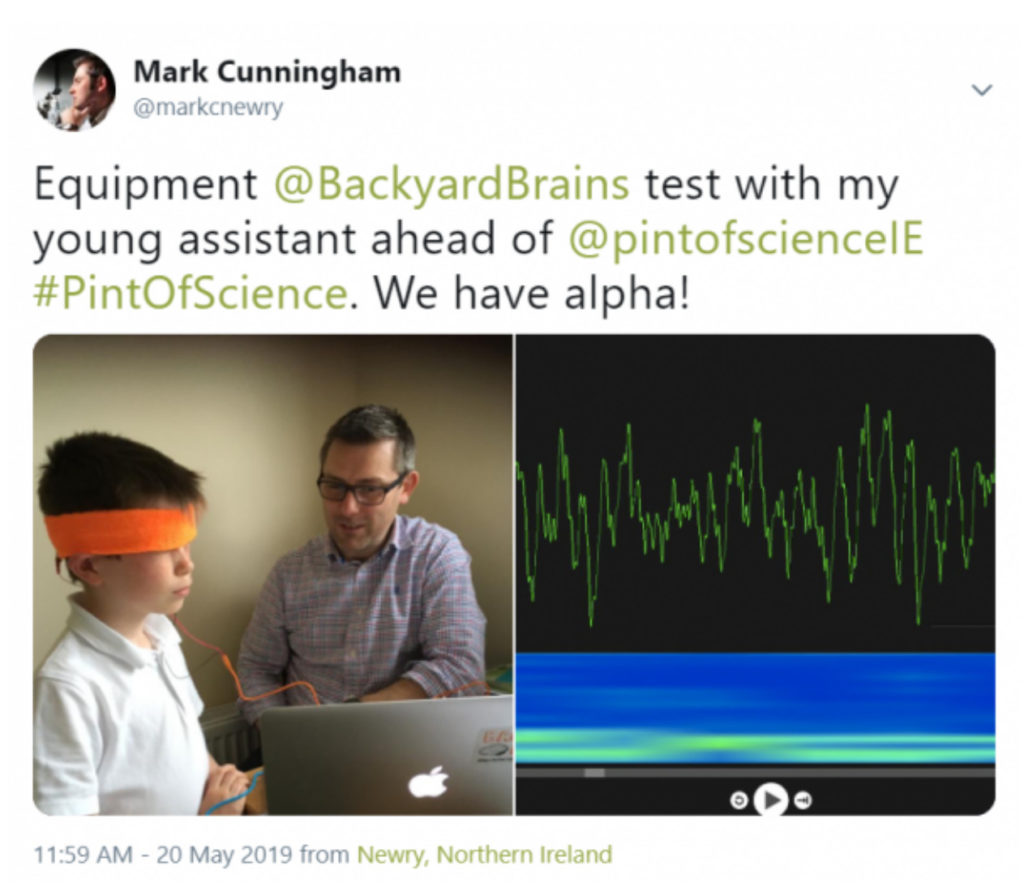 Mark's tweet inspired a fun follow-up conversation among other Twitter users: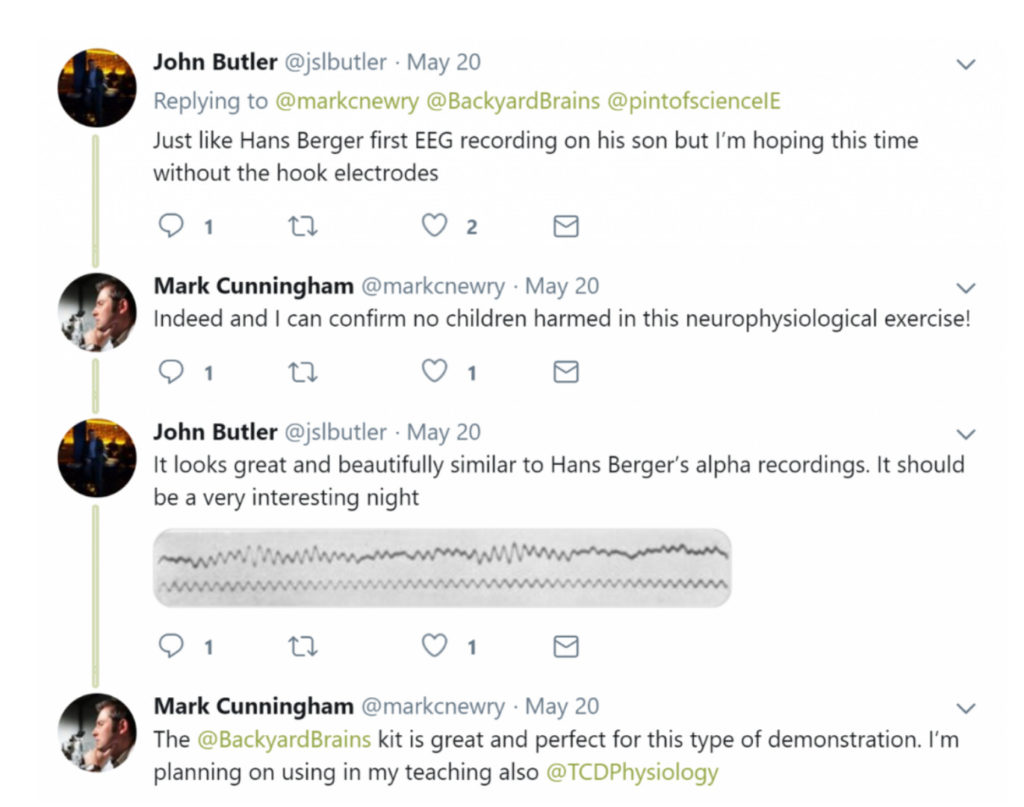 We've got history, humor, and enthusiastic recommendations all in one!
A Brief History of EEG
In their tweets, John and Mark are referencing Hans Berger's pioneering work in brain recordings, the results of which were published in 1929.  (If you're curious, click to see the publication here in its full, German language glory!)
Wikipedia provides a nice summary of this original experiment:
His method involved inserting silver wires under the patient's scalp, one at the front of the head and one at the back. Later he used silver foil electrodes attached to the head by a rubber bandage. As a recording device, he first used the Lippmann's capillary electrometer, but results were disappointing. He then switched to the string galvanometer and later to a double-coil Siemens recording galvanometer, which allowed him to record electrical voltages as small as one ten thousandths of a volt. The resulting output, up to three seconds in duration, was then photographed by an assistant.
By the way, the original recording from that string galvanometer is pictured in John Butler's tweet!
Fortunately, technology has advanced considerably in the past century.  Now we can perform the same experiment and view the same results with our non-invasive EEG sweatband.  Much less intimidating than inserting silver wires under the scalp!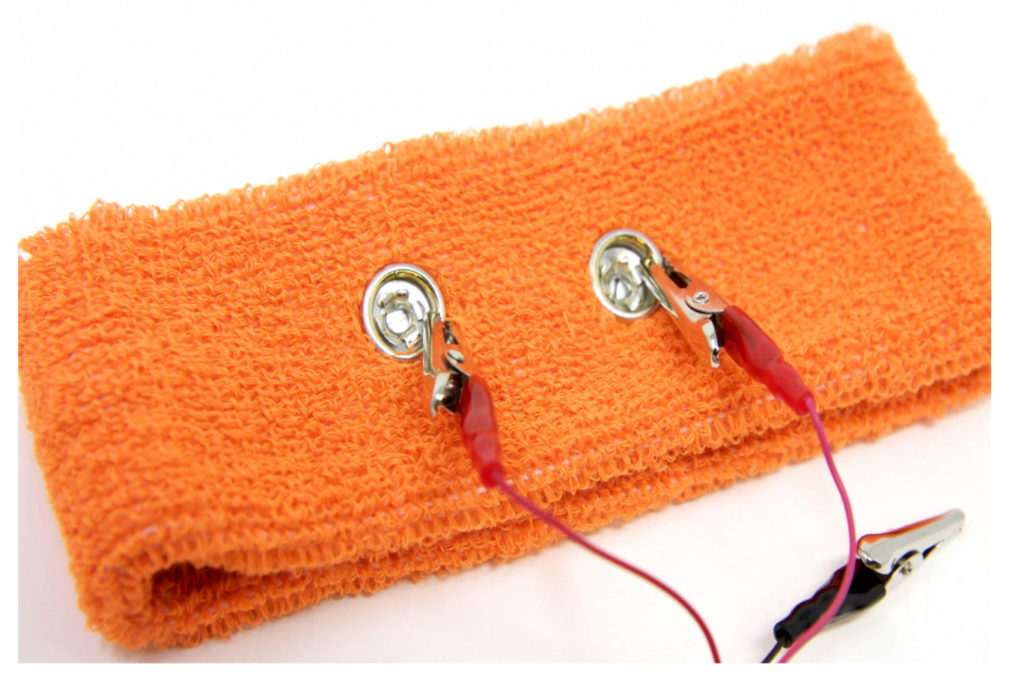 A High School Student's Project
You can even use the Heart and Brain SpikerBox kit to record the electrical activity of your eyes.  Check out this example—in which high school students looked for a relationship between increased eye activity and brain activity!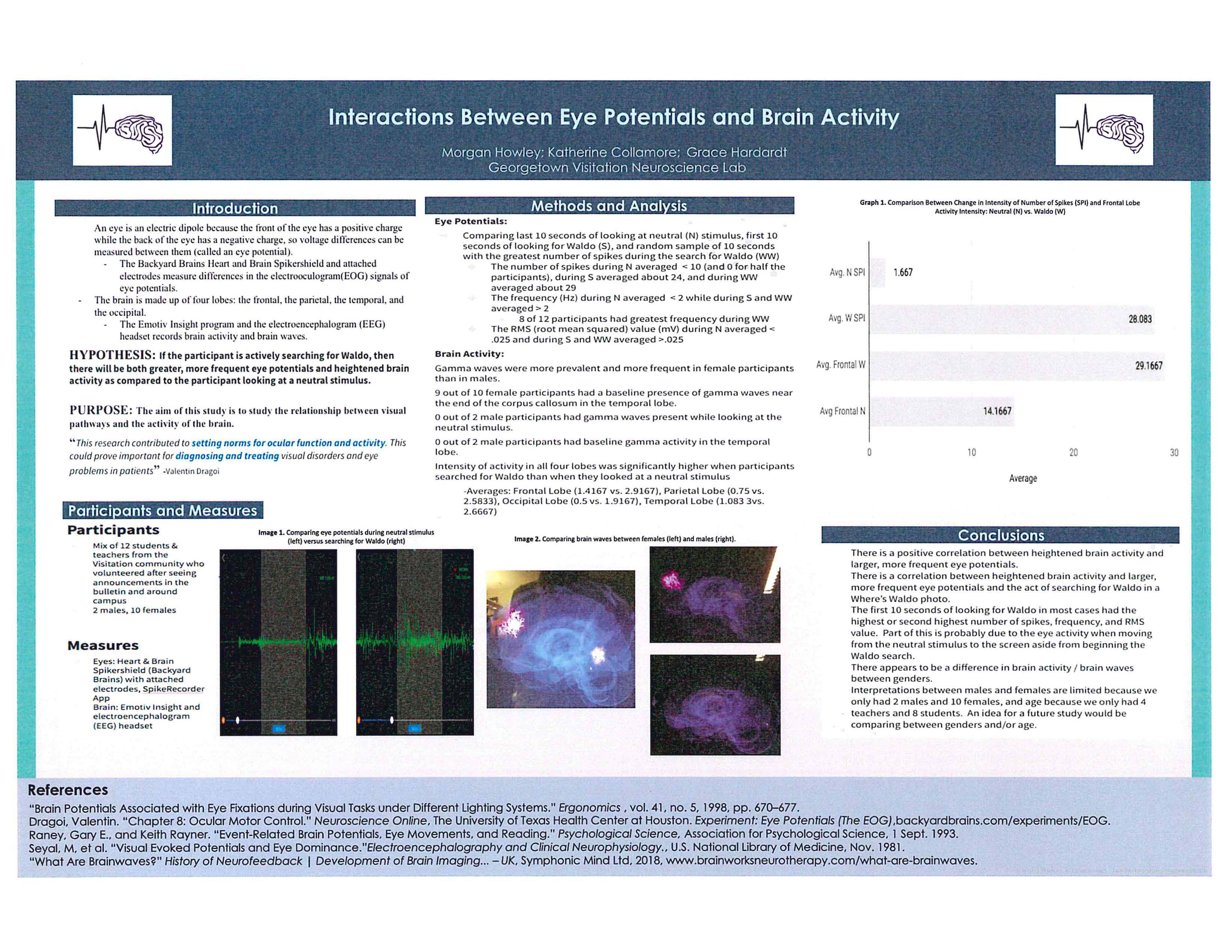 (Click here or on the image for a full-size graphic.)
The Neuroscience Tools to Make it Possible
Finally, there's a way to bring these experiments to life in your classroom!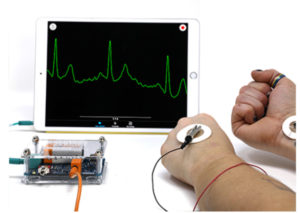 In conclusion, I have one question.  Why not record from your heart, your brain, and even your eyes?  With EEG, EKG, and EOG, we can study more complex electrical systems that are responsible for nearly everything that makes us human.  I hope you'll give it a try!
Experiments: