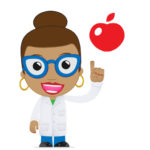 What is the scientific method?  It's one of the stepping stones your students need to cover before starting any science fair project.
As this helpful primer from Science Buddies states, "Whether you are doing a science fair project, a classroom science activity, independent research, or any other hands-on science inquiry, understanding the steps of the scientific method will help you focus your scientific question and work through your observations and data to answer the question as well as possible."
What Is the Scientific Method?
Simply put, it's a way to THINK about what you are doing, step by step.  Scientists are curious folk.  They want to explore answers to questions… but first they have to pose the right question.
Click here or on the image below for a ready-to-teach lesson, including worksheets and NGSS correlations: