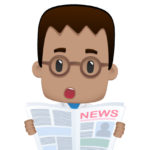 You might be surprised how much news there is about the ubiquitous science fair!  We have collected a few worthy articles for you.  Some are funny, others are provocative—and they're all worth a look.
If you come across an article of interest, please share it with us in the Comments section below.
Happy reading!
Science Fairs:  All in the Family?
Science News has an excellent article offering tips on how parents can encourage their children as they work on science fair projects.  You may want to share this with your students' parents!  "Science Fair as a Family Affair."
The Science Fair from One Mom's POV
While we're on the topic of science fairs and families… you've probably seen this science fair image that went viral a few years ago.  It was created by a mom who—despite her apparent concern about "half-baked ideas of dubious merit"—actually has some interesting ideas about improving science fairs so that they're more meaningful for the entire family.  Her name is Susan Messina, and you can read her thoughts here.
We'd love to know what you think of her ideas.  Share your opinions in our Comments section below!
Are Science Fairs Worth the Trouble?
Thanks to a National Science Foundation grant, a team of researchers has been analyzing a national survey and case studies of more than a dozen schools for clues about how the fairs might help pay dividends for students.  Until now, much of the existing research has been opinion-based, observational, or based on small case studies, making it harder to generalize to schools at large.
Education Week's article,  "Are Science Fairs Worth All that Trouble?  Study Seeks Some Answers," explores the study, now in its final year.  The principal investigators have already arrived at some interesting conclusions, with more expected upon its completion in mid-2018.
Good or Bad?  Corporate Sponsorship of Science Fairs
We've come a long way from one of the early national science fairs, in 1955, when 14 students participated and the winner built a scale model of Eli Whitney's cotton gin.  These days, many science fairs are sponsored by corporations.  While this might allow greater exposure for young scientists, many believe that this front-and-center name-branding within youth science fairs diverts attention from the students and their work.  This Washington Post article, "Who Are the Biggest Winners of Science Fairs Today?" presents the current situation.  A provocative read!
And on the other side of the coin, there's this New York Times article, "Intel Drops Its Sponsorship of Science Fairs, Prompting an Identity Crisis," and an opinion post in Bloomberg, both of which lament the corporate giant's decision to stop sponsoring science fairs after nearly 20 years.