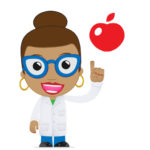 Hydrophilic superabsorbent polymers are so much fun to use in the classroom.  Young and older students alike love working with Growing Spheres that expand by more than 300 times their original size.  And who doesn't love an avalanche of Instant Snow?
We know that the best lessons are those that keep your students engaged in genuine, hands-on scientific exploration.  We believe that students learn more when they're having FUN… and that's precisely what happens when you bring any hydrophilic material into your classroom.
Here's a fantastic hydrophilic lesson from Science Scope magazine, reprinted with permission.   Subtitled "A Process-Oriented Lesson Exploring the Invention and Chemistry of Disposable Diapers," it contains everything you need—from a starting materials list to follow-up research opportunities—for a two-day lesson on sodium polyacrylate.
Click on the image below for a full-color, printable PDF.