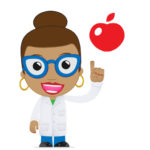 Non-Newtonian fluids are wonderful teaching tools for students of any age.  Just bring some slime, honey, ketchup, or sour cream into your classroom and the learning begins!  This fun lesson and worksheet makes it easy to teach students how to identify the properties of solids, liquids, and non-Newtonian fluids.
Lesson credit:  University of Waikato, New Zealand (www.sciencelearn.org.nz).
Click on the image below for a full-size, printable PDF version of this 3-page lesson.  Enjoy!