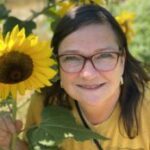 by Priscilla Robinson
Empowering Performance
The Next Generation Science Standards (NGSS) had a strong presence at the 2016 NSTA Science Conference held this past March in Nashville, Tennessee.  The conference theme was "Empowering Performance" and that's the foundation upon which the NGSS standards are balanced.  Enthusiastic keynote speeches empowered teachers to help their students "Change the World!"  Educators dashed to workshops and the exhibit hall in search of solutions that will help them understand, implement and survive this rising tide of new science learning standards.  Presently, with 19* states and the District of Columbia already on board with the NGSS adoption, updated standards are making their way into classrooms across the nation.
In other words, this year the NSTA was abuzz with NGSS!
What should you know about NGSS?  Here's my takeaway from the conference.  Consider these points regardless of where you stand in this transition, or how soon your state, district or school will make the shift.
1.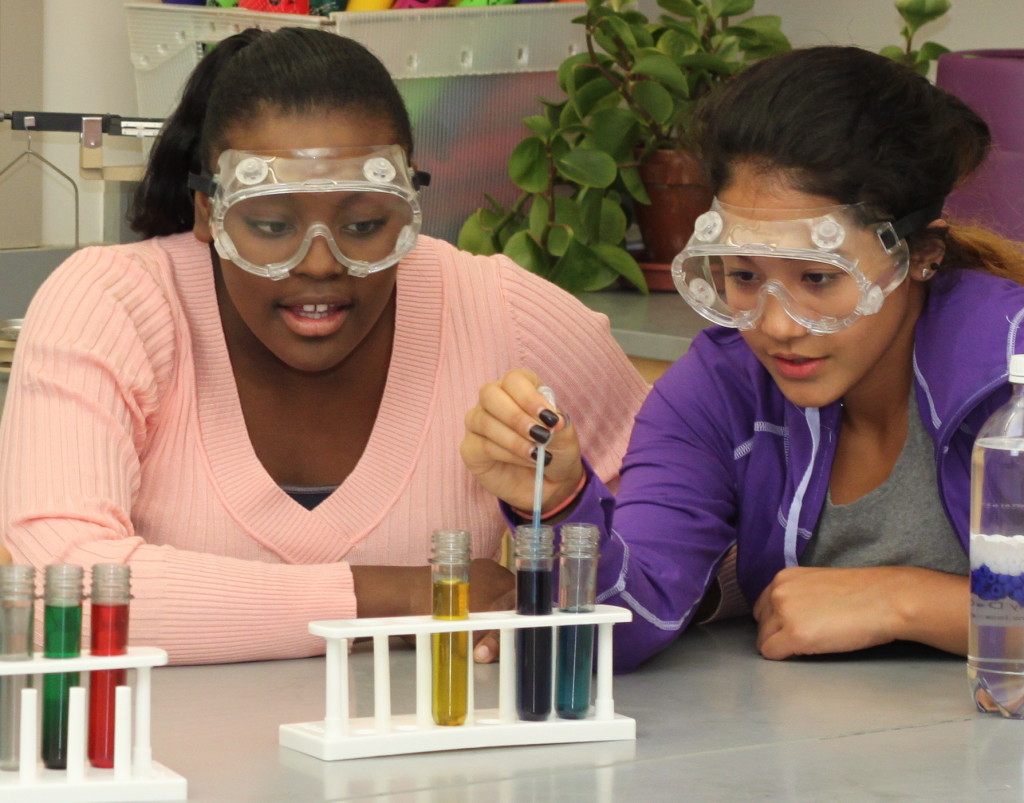 NGSS is student focused and performance based.  It is a formative way for instructors to teach science—through their students' failures and successes during performance tasks.  This harnesses children's enthusiasm and challenges them to think deeply.
The multi-layered performance expectations are: a) Science and Engineering, b) Disciplinary Core Ideas and c) Cross Cutting Concepts.  These performance expectations allow students to think and act like scientists or engineers, making connections across the science fields.  The very dynamic nature of science is embraced to encourage infinite, not finite solutions.
2.
NGSS challenges educators to build new curricula with hands-on projects that encourage students to work as a scientific community to make sense of scientific phenomena through observation, evidence gathering, and reason.  In a hands-on process, students are able to take risks because nobody has the "right" answer; everybody has something to contribute.
3.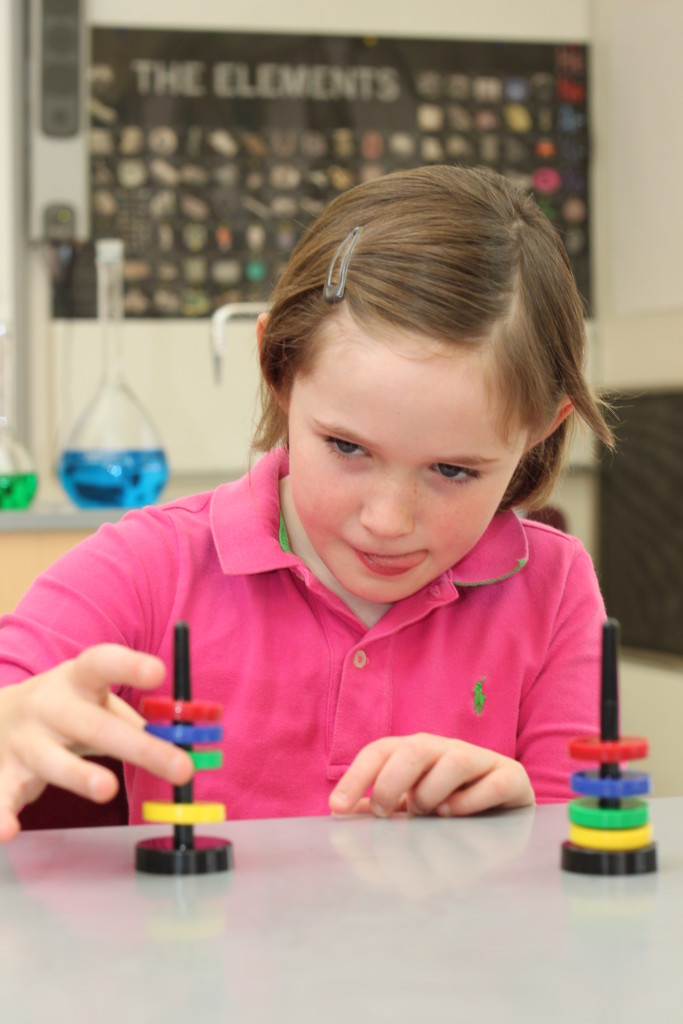 NGSS encourages teachers to become dynamic learners who implement Professional Development to add new methods and materials into their classroom.  (Engineering and Design is perhaps most needed, because many veteran teachers may have never taken an engineering course.)
This was evident at the conferences I attended in California and Kentucky, where NGSS is adopted.  Teachers flocked to workshops and exhibitors in search of tools that would help them implement robust, successful lessons.  I uncovered an amazing amount of Professional Learning opportunities available online at the NSTA website.  For example, The Matrix of Crosscutting Concepts in NGSS is a brief document developed by NSTA that cuts to the chase.  There is a wealth of free information, explanations, breakdowns, videos, webcasts (live or archived) and instructional brochures for teachers at Ngss.nsta.org/Professional-Learning.aspx.
4.
NGSS support learning in the Common Core for English Language Arts/Literacy and Mathematics.  Due to the nature of the performance expectations, students must research, read, collect data and do analysis manually and aided by computers.  As students take on the role of leaders/teachers in their work groups, more responsibility is placed on each member to discover the path via integrated subject matter immersion.
5.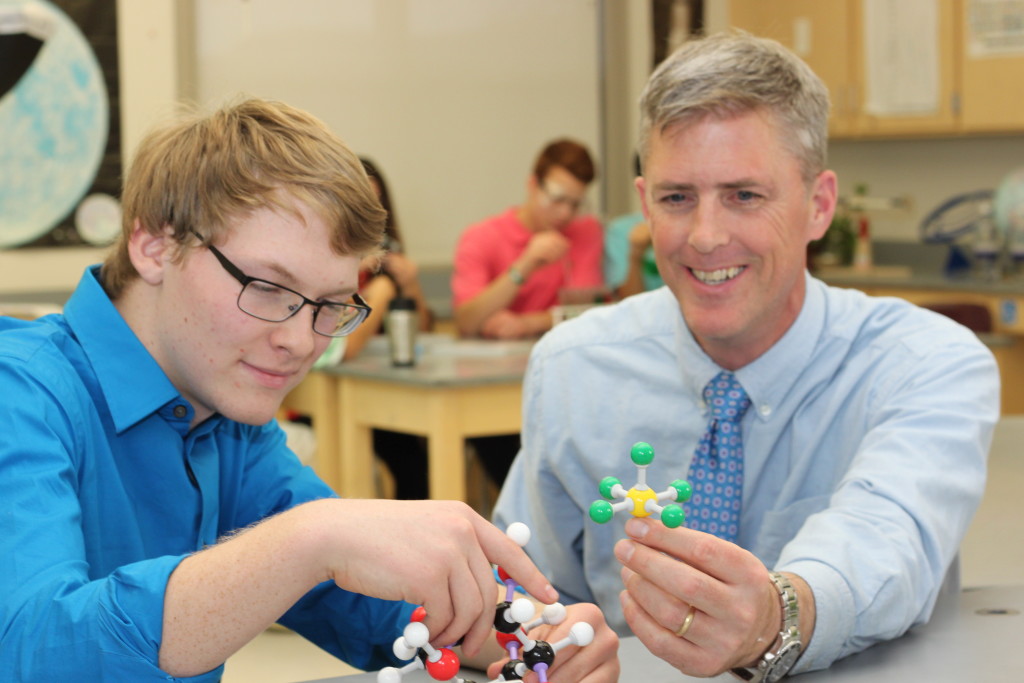 NGSS formulates polarized opinions and concerns with teachers, administrators, and parents in the midst of its adoption.  The lack of finalized assessments is disconcerting for many teachers who have experienced the wrath of poor test scores.  There is a variety of topic strands, some of which explore new and controversial science trends that might be too liberal for certain regions of the country.
More encouragingly, there are many teachers whose states have not yet adopted NGSS, yet they are already scouring the framework in search of outcomes they want in their classroom.  Some teachers feel the need to prepare for a gradual transition by using some of the NGSS ideas.  Others are concerned with the broad subject matter not specific enough for their subject matter.  Some just hope for this wave of change to wash over and go away.
---
With every adoption of a new set of standards, there is inevitably give and take for all stakeholders.  What I see in the NGSS framework is a worthy set of science ideals that allow students of all abilities to learn integrated science in a supportive community.
When I was a full time middle school science teacher, much of my teaching criteria were represented in the NGSS.  Maybe because my deep focus has been in special education… or maybe because I want to have fun doing science with my students!  Now as a Science Education Consultant conducting PD for educators and writing curriculum to support student performance over memorization, I acknowledge the challenges ahead.
It's a lot of work to revamp and change what educators do in the classroom day in and day out.  But just think of the outcome!  More students understanding scientific concepts and being successful the first time.  Empowering your students to change the world is a worthy cause.
NOTE:  Educational Innovations was a mainstay in my classroom when I taught middle school science.  The hands-on products and toys taught great science.  More recently, Educational Innovations has begun aligning hundreds of their products to the NGSS.  Look for the NGSS tab online for lesson ideas and unique products that you can use to implement these new standards across grade levels K-12.
* South Dakota has adopted new standards that are extremely close to NGSS.
This chart is a sample layout and framework of the Next Generation Science Standards: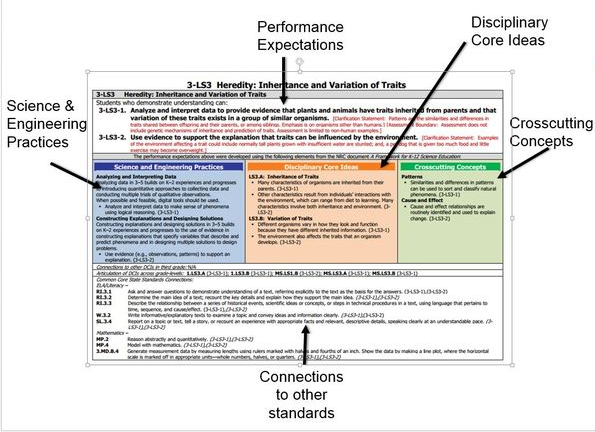 The NGSS process K-12 reinforces Kolb's Cycle of Experiential Learning as shown on the chart below.