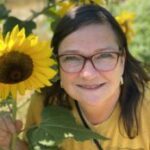 by:  Priscilla Robinson
Autumn is such a magical time of the year.  Leaves change and landscapes are transformed with flaming red, vibrant gold and jolly orange.  It's almost magical: pumpkins start to appear on porches and black cats, scarecrows, and goblins stand ready to greet passersby.
Yesterday, as I sat sipping my coffee, transfixed on the seasonal changes of the Portland skyline and surrounding hills, my iPhone awakened with a familiar ring.  It was Henry, my three-year-old grandson in Seattle.
Facetiming with Henry fills in those gaps when we are apart.  This autumn morning Henry was excited to show me his Halloween costume.  "I'm going to be Batman, Nana!" he exclaimed.  Fumbling to hold up his cape and mask, he explained how he was a good guy and that he was going to be super fast at trick-or-treating this year.
"What's trick-or-treating?" I joked with him, wondering how much a three-year-old really knows about it.
"Oh, Nana… you know?  This is my big chance to get lots and lots of candy, because Mommy doesn't let me have lots and lots of candy."  (He'd obviously had a conversation with his dad).  Obviously he knew what the "treating" was about!  I asked him, "What about the trick?"  Confidently he explained it was all the spooky stuff on Halloween.
A smile crossed my face.  Immediately I had ideas about of what would be traveling up to Seattle in Nana's Bag for Halloween.  I wanted Henry to have fun with the "Trick" in trick-or-treat.
And so I immediately turned to Educational Innovations' website for some amusing and spooky Halloween items for—literally—my bag of tricks.  On the home page, I was thrilled to see the bright Halloween Headquarters banner.  What a fast and easy way to find just what I needed!  The various Halloween science departments like Insect Snacks, Things that Glow, Lights and Lasers, and More Creepy Stuff placed lots of options at my fingertips.
I decided Henry needed both a Cricket and a Larva Licket Lollipop for the treat.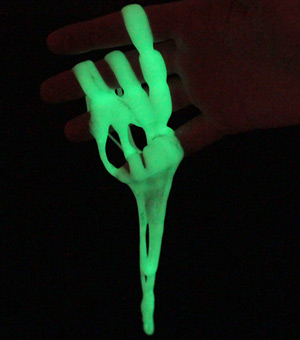 I always love to have some sort of project or experiment that Henry and I can do during the quiet time when his baby sister is down for a nap.  The Glowing Slime Kit would allow him the independence to make up a spooky, glowing batch of slime for Halloween night.  Each kit includes the required chemicals sealed in disposable pipets, a mixing container with lid to preserve your slime, a mixing stick and complete instructions.
Aside from all these ghastly goodies, there were lots of fun Halloween science videos and free seasonal activity ideas for home or the classroom.  What a fabulous resource!
I was pleased that my Trick or Treat conversation with Henry occurred while I still had plenty of time to purchase these items.  The hidden treat in my bag is that Henry will have diverse learning opportunities with his creepy science tricks.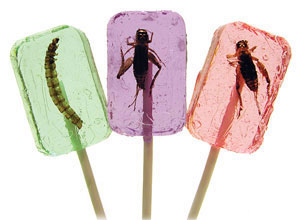 I seriously doubt that Henry will eat the Licket Lollipops embedded with bugs, but he will certainly be motivated and feel safe to look closely at the insects' anatomical structures for a mini-biology lesson.
Creating the Glowing Slime will let Henry his "Mad Scientist" side shine!  Whether or not he can conceptualize what the molecules are doing, he will certainly see and feel the effects, which is bound to pique his curiosity.
If you want to add a little more "Trick" to your classroom, Halloween party or even if you just want to surprise a friend, don't delay and check out the Halloween Headquarters at Educational Innovations.  You will deliver the best treats ever!