by: Linda Dunnavant
Making Science Fun… with Food!
There's nothing like food to get students engaged in a lesson.  Even the coolest of oh-so-cool middle schoolers will be putty in your hands after you tell them they're going to have a chance to eat and learn at the same time.  Food can be incorporated into the science classroom in countless ways.  As long as it relates to your curriculum, the sky is the limit!
Here are a few tried and true ideas for food fun in the science classroom.  Feel free to adapt any idea to make it work for you and your students.  If your district has a strict food policy that doesn't permit students to eat anything not offered in the cafeteria or packed by parents, you'll have to consider revising the ideas so students can try these delicious lessons at home.
Soil Pudding
Of course students are familiar with soil, but few know the ins and outs of soil's different layers.  Making soil pudding is a great way to teach your students about bedrock, parent material, subsoil, topsoil, and organic matter.  Best of all, soil pudding tastes great with ingredients like Oreos, chocolate pudding, and gummy worms.  Click here to view a recipe for edible soil.
Edible Cells
Those of us who have ever had to teach the parts of the cell know how tricky it can be for students to memorize all of the organelles and their functions.  One fun—and tasty!—way to make the parts of the cell more concrete for students is to create edible cells.  Using materials such as Jell-O® (to represent cytoplasm) and sprinkles (to represent ribosomes) will not only help your students understand the parts of the cell, it will also help them remember them for years to come.  Click here to view a great edible cell lesson with worksheets.
*Tip: The recipe suggests making Jell-O® the old fashioned way.  I've found that just purchasing the individually packaged Jell-O® in small plastic containers is much easier and less time-consuming.
Solar Oven S'mores
This is a fun activity to do at the beginning (or end) of the school year.  Don't attempt this on a cool or overcast day, because you need heat and direct sunlight to cook the s'mores.  You will need graham crackers, marshmallows, chocolate bars, aluminum foil, plastic wrap, tape, glue sticks, and cardboard boxes with lids.  TIP:  Pizza boxes work really well and many pizza restaurants will donate free boxes to teachers.
Click here for a detailed explanation of how to make solar s'mores with students.  Extensions can include researching different ways solar energy is used throughout the world, and brainstorming new inventions that harness solar energy.
2021 UPDATE:  Thanks to Mason W. and his Boy Scout troop for sharing this excellent resource with us:  A Guide to Cooking with Solar Energy.
This cool device will amaze your students!  It is simple to use.  First, fill one side with ice and rock salt.  Next, add your favorite ice cream mixture (typically milk, sugar, and vanilla) into the cylinder inside the ball.  Students can then shake, rattle, and roll the ball until ice cream is formed.  This activity is a great way to teach phases of matter.  Also, students will learn that salt lowers the freezing point of water, which explains why salt is used on icy roads in winter.  An extension for this activity is to have students hypothesize what would happen if different types of salt were used.  Students can experiment by making ice cream with different types of salt to learn which type of salt works best and why.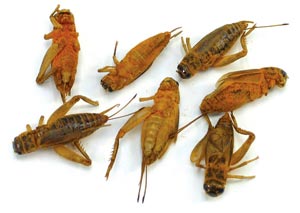 Imagine this.  You are starting a unit on insects or healthy eating and you pop a handful of bugs into your mouth.  Can you imagine the look on your students' faces?  These tasty, edible crickets will get your students talking about different things that people eat all over the world, as well as engage them in learning about the unique properties of insects.
These yummy sugar-free lollipops are another great way to hook students when learning about insects or healthy eating.  Who doesn't want a little protein with their sugary snacks?  Selling these could even be a great fundraiser for your class or school, especially around Halloween!
Helpful Tips for Food Fun in the Science Classroom:
Don't be afraid to ask parents or your school's PTA for help with these kinds of projects. Buying enough supplies to do some of these activities can get very expensive, especially if you are planning to do the activity with several classes.  Parents will probably be happy to send in a box of graham crackers or a bag of marshmallows if they know it will be used for their child's learning.  I've found that it never hurts to ask.  The worst they can say is no, right?
Get organized. The first time you try a project like this it will seem like a ton of work and you may wonder what you have gotten yourself into.  After you get a system down for acquiring and distributing materials, it will get much easier.
Set clear guidelines up front for what you expect from your students. Is everyone supposed to wait to begin until everyone gets his or her materials?  Do students know when they will get to eat their finished products?
If students are not going to be able to enjoy their edible creations until the end of class, I like to give them some sort of taste at the beginning of class so that they can focus on learning instead of focusing on when they can eat. Handing out a graham cracker or a couple of M&M's to each student works great.
Take pictures so that you can display your edible masterpieces later. Pictures are a great way to show administration and parents what all is going on in your classes.  Students also love to look back and see the learning they've done over the course of the year.
What are some of your favorite ways to incorporate food into your science classroom?
Linda Dunnavant is a middle school teacher whose blog, "Tales of a Fifth Grade Teacher," can be accessed here.