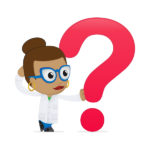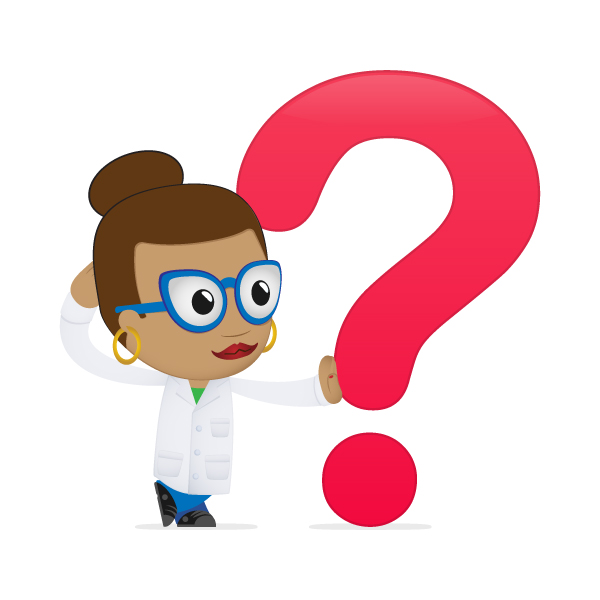 When the topic is germs, your teaching opportunities can expand in many directions—just like the droplet spread from a sneeze!
Not sure where to start?  Don't worry, we've got you covered.
Here you will find germ-related discussion starters, research ideas, current events worksheets, posters and more.
---
Depending upon the grade you are teaching, there are many areas for your students to study.  You might:
♦   explore the world of viruses, bacteria and other microbes
♦   travel back in history to a time when people believed that "miasma" or "animacules" were responsible for causing diseases
♦   research how epidemics are identified, managed and eventually brought under control by teams of specially-trained public health authorities such as the World Health Organization
♦   investigate new advances in the prevention of infectious diseases, including issues related to antiobiotic-resistant "bugs"
♦   conduct experiments on how germs spread and flourish under certain conditions.  (Our blog post, "A Firsthand Lesson on Colds, Flu and Infectious Diseases," offers step-by-step instructions for a lively demonstration of how easily we transmit germs when we don't wash our hands adequately.)
♦   grow your own "Germ Garden" in Petri dishes in your classroom to learn more about the conditions that allow different bacteria to flourish.  (Our Bacteria Growing Kit was created for this purpose, but if you prefer to start from scratch, you may want to stock up on Petri dishes and agar powder. )
---
We have created a selection of printable handouts and worksheets you can share with your class.  Just choose the ones you like, click-to-print, and you're ready to go!
WHEN & HOW TO WASH YOUR HANDS
The second week in December (12/7 – 12/13)  is National Handwashing Awareness Week, but don't wait until then to learn the right way to wash your hands!  Indeed, there IS a "right" way to do it—if you want to stay healthy and avoid spreading germs.
* PRINTING INSTRUCTIONS:  Just click on the image you'd like to print.  A new window will open with a full-sized PDF version to print.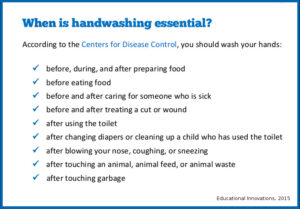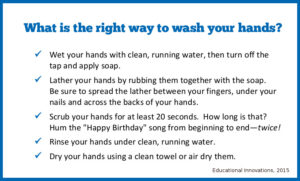 ---
Get your whole class into the Germ Facts act with this worksheet.  Students must research facts about germs and then create a colorful "fact frame" that can be added to your classroom bulletin board.  Suitable for grades 3-7.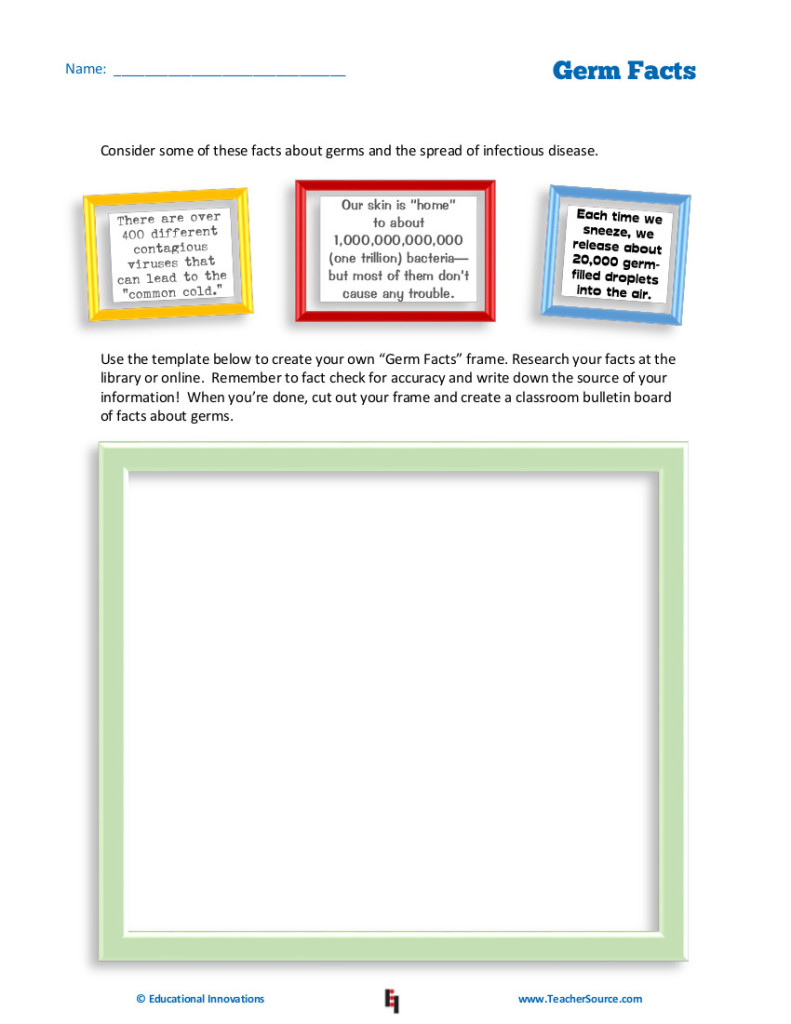 click image for full-size, printable version
---
Best suited for grades 8-12, this worksheet allows your class to delve into a timely discussion about vaccines as a method of preventing the spread of infectious disease in a population.  Use this as part of a lesson on vaccines or healthy practices.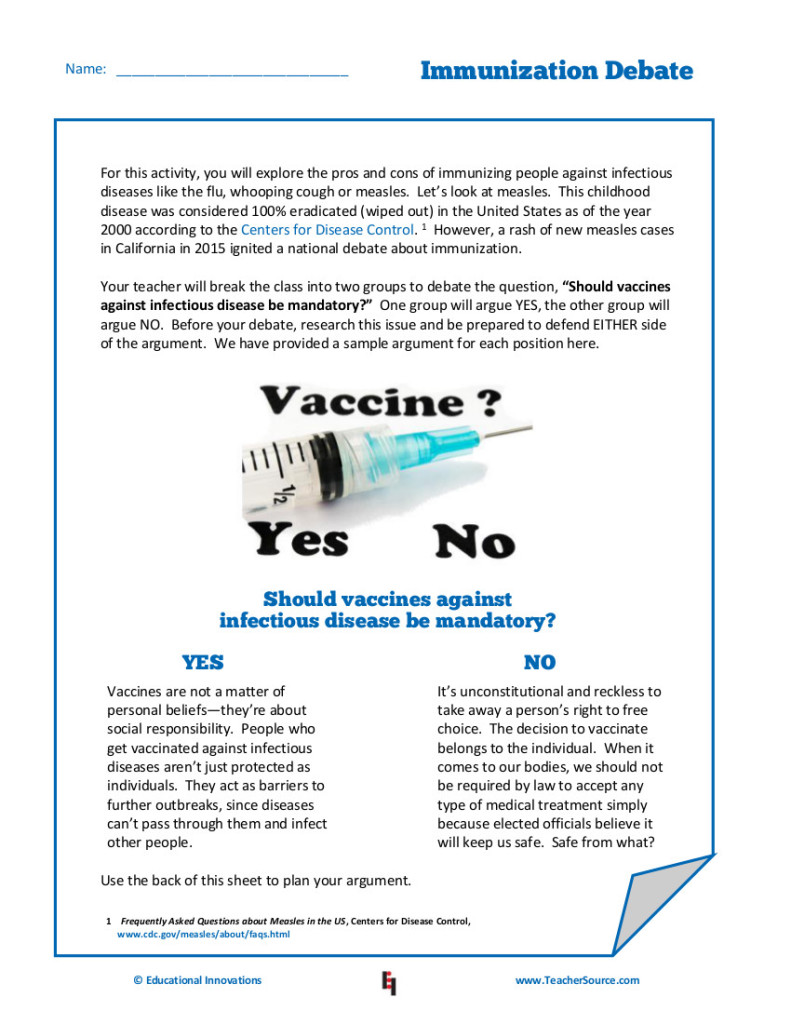 click image for full-size, printable version
---
The Ebola virus outbreak in late 2014 offers many opportunities to discuss germs on a global scale.  This worksheet invites students to reflect on how they would handle a similar situation.  An excellent way to start a discussion!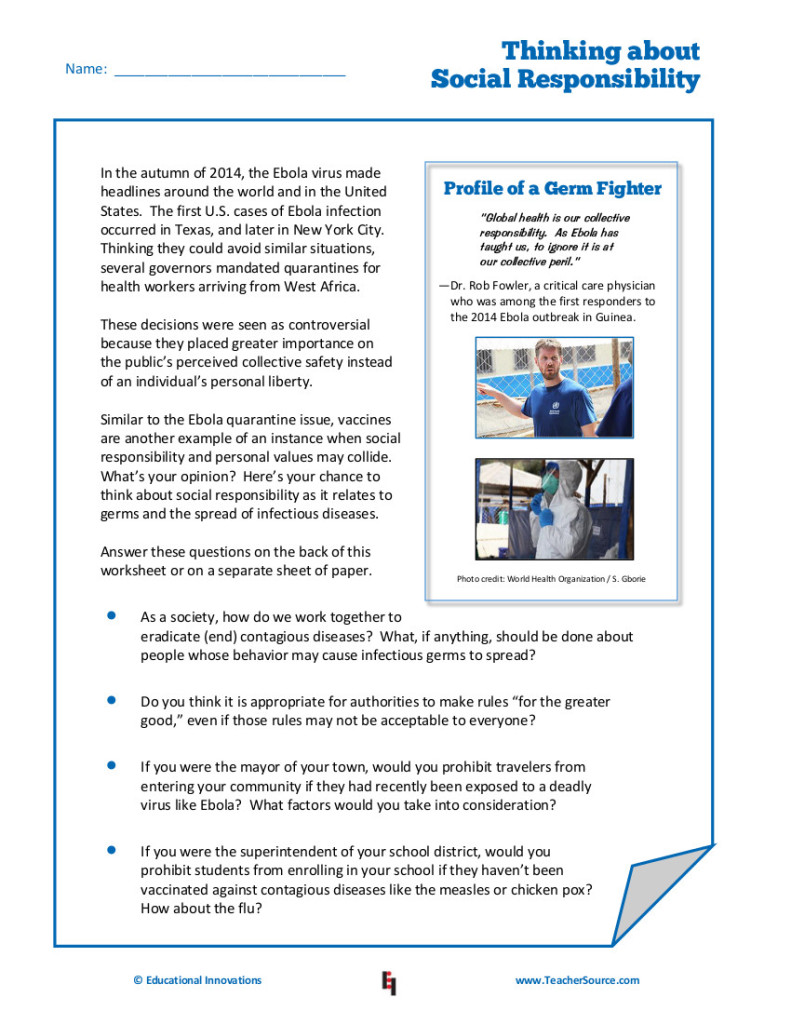 click image for full-size, printable version
---
EYE-CATCHING HANDWASHING POSTERS
These colorful posters aren't just fun, they're wonderful reminders to wash your hands!  To download full-sized (11″ x 17″) versions of these posters for your classroom, click on the images below.